Plastic storage bins reduce manufacturer's storage space by 50%
The bins have also considerably decreased freight costs.

By
MMH Staff
·
October 15, 2018
To improve storage efficiency and inventory control within its 700,000-square-foot master parts DC, a major manufacturer of construction and mining equipment needed a solution. The DC is responsible for providing parts and responsive customer service to customers worldwide, operating 24 hours a day, seven days a week and 365 days a year to keep up with demand. One of the biggest hindrances to the operation's efficiency was its 150,000-square-foot small parts storage area. The area used a variety of steel shelving, drawers, corrugate containers, wooden boxes and pigeon hole cubbies that created a less than adequate environment for efficiency and neatness.
The manufacturer was using a variety of storage options with many SKUs contained on shelves in cardboard boxes. The corrugated boxes were dusty and became soggy and weak in the humid climate. And since the boxes couldn't be cleaned, they left the area looking dirty and ragged. Labels tended to peel off, making it difficult for order pickers to identify parts. The most prevalent issue, however, was possibly the great variety of box sizes creating a vast amount of wasted space. After a thorough evaluation and discussions with factory floor supervisors and management decision makers, a storage and materials handling product specialist provided samples of plastic storage bins to test out. Ultimately, the group chose a six-compartment system bins solution, as its one-piece design provided the clean and organized look the heavy equipment manufacturer hoped to achieve. In particular, the manufacturer liked the look of the one-piece molded plastic storage bin and how it gave uniformity to the storage space. A combination of 12-inch deep and 18-inch deep bins were used for the variety of part sizes. Another benefit of the bins was the savings in freight they provided when compared to standard bins. The shipment of bins only required 7.5 truckloads to fulfill—6.5 less than comparable single-compartment bins.
Upon implementing the new storage system, the formerly 150,000 square feet of storage space was consolidated and reduced to roughly 75,000 square feet. Due to the consolidated storage area, the travel time for pickers greatly declined. And, as a result, order pickers now have shorter distances to travel when picking orders, which saves time and boosts efficiency.
In addition, a new bar coding system—implemented with the new storage bins—also allows pickers to locate parts faster within the smaller footprint. And, of equal importance, the reduction of the space required for storage has also opened up extra capacity, which can now be used for additional racking to store larger parts.
View Containers, Bins & Totes Products and Accessories
APTS portable toolboxes
Store, transfer items with toolboxes.

---
HDMP4845 BulkPak Container
Maximize packout with bulk container.

---
SchaefGuard dunnage product line
Protect contents of totes with reusable dunnage.

---
Custom Bin Containers
Bins customized for unique handling processes.

---
Stackable Plastic Warehouse Bins
Bins are durable and lightweight.

---
Plastic Warehouse Tray
Containers maximize picking productivity.

---
What's Related in Akro-Mils
Plastic storage bins reduce manufacturer's storage space by 50%
The bins have also considerably decreased freight costs.
Akro-Tilt Tipping Trucks
One-piece molded cart re-engineered to nest when fully assembled
Clear versions of attached lid containers
See inside new line of containers made from clear plastic
Akro-Mils celebrates 70th anniversary
Founded in 1946, the company initially manufactured steel cabinets with plastic drawers for the consumer market.
Nest & Stack Totes available in clear
Ideal solution for storage, transfer and shipping applications
More Akro-Mils
Related Topics
Akro-Mils
Barcode Label Printing
Casebook
Containers
Storage Solutions
All topics
Latest products
Super Air Wipe dries, cools & cleans small diameters.
Momentum™ warehouse execution system (WES) by Honeywell Intelligrated is a feature-rich software platform built to address the escalating…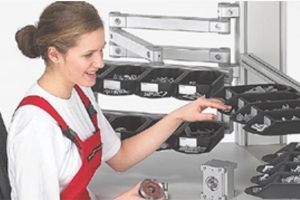 Customize workbench for optimized use.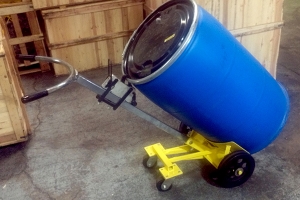 Handle rimmed drums with ergonomic hand truck.
Latest materials handling news