Latest in Materials Handling
December 10, 2018
Unit-load design software can improve the performance of an entire packaging system while simultaneously reducing cost and modifying…
December 10, 2018
Planning for the inevitable will ensure low costs, high productivity and improved safety across your lift truck fleet.
December 10, 2018
New industry regulations, the consumerization of healthcare, and the persistent need to replace antiquated logistics approaches are pushing…
December 10, 2018
We're all experiencing the effect our hyper-connected society is having in our day-to-day lives.
December 10, 2018
It's a simple concept. Warehouse space sized to a company's immediate needs and located close to the final customer. That combination…
December 10, 2018
While the top of the list remains stable, up-and-comers are mixing up the software landscape with Cloud capabilities that traditional…
December 10, 2018
A former supply chain executive, Vyas is the executive director and co-founder of the University of Southern California's Marshall…
December 7, 2018
Gantry cranes handle changes in SKUs, packaging and seasonal peaks while providing powerful software tools.
December 7, 2018
Enterprise-wide visibility and training—including employees outside traditional ergonomics roles—leads to 54% reduction in recordables.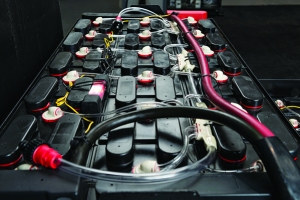 December 7, 2018
Simple jobs done poorly are a recipe for disaster, and the battery room does not forgive sloppiness.
Materials Handling Products
Super Air Wipe dries, cools & cleans small diameters.
Learn more.
Momentum™ warehouse execution system (WES) by Honeywell Intelligrated is a feature-rich software platform built to address the escalating…
Learn more.
Industrial ceiling fan includes optional LED attachment.
Learn more.
Packaging & Pallets
The Multi FleXL stretch hood machine by Lachenmeier effectively secures and protects large loads, including those at risk of exposure…
Learn more.
Dock Equipment
The Loading Dock safety gate provides fall protection in loading dock operations that consist of a tractor trailer backing up to an elevated…
Learn more.
Dock Equipment
The Mobile Speed-Lift is the world's first and only self-powered mobile dock lift.
Learn more.