Latest in Materials Handling
April 25, 2018
Jungheinrich claims two awards, and ties with a modular tugger startup for Warehouse Truck of the Year.
April 25, 2018
Engineered equipment leader Duravant expands global offerings with acquisition of worldwide leader in advanced automation systems for…
April 25, 2018
Modex 2018, the 4th edition of the expo, saw a 25% jump in the number of registrations for a total of 30,944.
April 23, 2018
The drive for higher levels of productivity has caused some AGV manufacturers to select larger batteries that can last longer between…
April 19, 2018
Announcement comes as the OEL Foundation prepares for a TGE later this year
April 18, 2018
In a move that combines more than 100 years of conveyance expertise, Dorner Holding Company, the parent company of Dorner Mfg. Corp.,…
April 17, 2018
The 2018 MHI Annual Industry Report released last week at Modex has many interesting findings from the survey it's based on, including…
April 17, 2018
Read this white paper to learn the 7 defining factors to consider about your facility so you can maximize the benefits of your fan investment.…
April 17, 2018
CHEP, a Brambles company, announced today that its 40x24 inch pooled (shared and reused) half pallets have achieved carbon neutral status.
April 17, 2018
A.B. Beverage improved throughput and eliminated a third shift through better warehouse design and a new rack system.
Materials Handling Products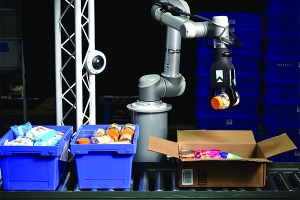 RightPick.AI integrated, vision-guided machine learning software, Right Hand Robotics RightPick Software for Automated Storage, Robotics…
Learn more.
Automated Storage
New automated vertical storage controller option debuts. Intelligent warehouse storage software controller, Warehouse inventory vertical…
Learn more.
Automated Storage
Order fulfillment storage system combines gantry robot, shuttles
Learn more.
Ergonomics
Track activity with app to identify, reduce wasteful processes and tasks. Newcastle MotionMeter app for time studies in the warehouse.…
Learn more.
Automatic Data Capture
Unleash higher field worker productivity with durable smart phone
Learn more.
Supply Chain Software
Enhance operations lifecycles with asset performance management system for Material Handling, Schneider electric asset performance management…
Learn more.