Latest in Materials Handling
November 12, 2018
The fastest-growing trend in warehousing could be smaller and smaller facilities.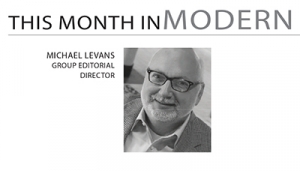 November 12, 2018
Disruption comes in many forms—a new app that hobbles the taxi business, historic weather events that put life on hold, millions of…
November 12, 2018
Gap Inc.'s Gallatin facility was designed to rapidly fill e-commerce orders while minimizing handling.
November 12, 2018
Just months before the start of the 2016 holiday season, one of Gap Inc.'s distribution centers was destroyed by fire. Here's the…
November 9, 2018
Materials handling professionals are as committed as ever to advancing the industry— although there is still plenty of room for young…
November 9, 2018
The right preventative measures can ensure safe, productive and efficient forklift operation in even the harshest freezers.
November 9, 2018
Today's systems can include pallet or slip sheet dispensing, metered material flow, bag weighing and filled-bag accumulation conveyors.
November 9, 2018
Modern Materials Handling's staff sat down for a short interview to discuss how technology is enabling a more moblity in the workplace.
November 9, 2018
If you haven't already started creating a mobile strategy for 2019, join us to get started. If you have a mobile strategy in place,…
November 9, 2018
Honeywell today announced that it has completed its acquisition of warehouse automation solutions provider Transnorm.
Materials Handling Products
Super Air Wipe dries, cools & cleans small diameters.
Learn more.
Momentum™ warehouse execution system (WES) by Honeywell Intelligrated is a feature-rich software platform built to address the escalating…
Learn more.
Containers, Totes & Bins
Store, transfer items with portable toolboxes.
Learn more.
Containers, Totes & Bins
Durable fiberglass containers resistant to chemicals, sagging.
Learn more.
Containers, Totes & Bins
Interstacking corrugated plastic bins are durable, lightweight and dust-free.
Learn more.