Latest in Materials Handling
December 7, 2018
Gantry cranes handle changes in SKUs, packaging and seasonal peaks while providing powerful software tools.
December 7, 2018
Enterprise-wide visibility and training—including employees outside traditional ergonomics roles—leads to 54% reduction in recordables.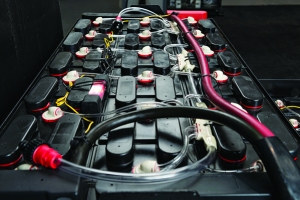 December 7, 2018
Simple jobs done poorly are a recipe for disaster, and the battery room does not forgive sloppiness.
December 6, 2018
Once slow to adopt automation, 3PLs are now leading the way
December 6, 2018
The index ISM uses to measure non-manufacturing growth—known as the NMI–rose 0.4% to 60.7 (a reading above 50 indicates growth),…
December 6, 2018
While devices have been interconnected by the Internet for more than a decade, we're just scratching the surface of what IoT means to…
December 4, 2018
With new business, leadership and investor, the provider of self-driving industrial vehicles plans enhanced production and innovation…
December 4, 2018
Williams joins Zebra with more than 20 years of global tech experience in supply chain.
December 4, 2018
In risk-averse market, research suggests adoption will grow only if smart manufacturing solution vendors 'define, prioritize, prove and…
December 3, 2018
New, interactive tool will help supply chain professionals learn about potential uses of blockchain
Materials Handling Products
Super Air Wipe dries, cools & cleans small diameters.
Learn more.
Momentum™ warehouse execution system (WES) by Honeywell Intelligrated is a feature-rich software platform built to address the escalating…
Learn more.
Industrial ceiling fan includes optional LED attachment.
Learn more.
Packaging & Pallets
The Multi FleXL stretch hood machine by Lachenmeier effectively secures and protects large loads, including those at risk of exposure…
Learn more.
Dock Equipment
The Loading Dock safety gate provides fall protection in loading dock operations that consist of a tractor trailer backing up to an elevated…
Learn more.
Dock Equipment
The Mobile Speed-Lift is the world's first and only self-powered mobile dock lift.
Learn more.