North American robotics orders to non-automotive companies surge to new records
Automotive and non-automotive segments are closer than ever in the history of RIA's reports dating back to 1984.

By
MMH Staff
·
November 29, 2018
North American robot orders to non-automotive companies surged to record highs through the first nine months of 2018, according to Robotic Industries Association (RIA), the industry's trade group.
Traditionally, the automotive industry (OEMs and tier suppliers) has accounted for over 60% of the North American market, but that number is down to 52% through September, with non-automotive orders at 48%, the closest these two segments have been in the history of RIA's reporting that dates back to 1984.
A total of 22,708 robots valued at $1.31 billion were ordered in the first nine months, down 17% in units and 11% in revenue from the same period in 2017. The 10,878 units ordered by non-automotive companies were 24% higher than the previous record set last year. Orders to the automotive industry (OEM + tier suppliers) decreased 36% to 11,830 units through September.
Among the non-automotive industries that set new records were life sciences (30% to 1,143 units), food and consumer goods (24% to 1,747 units), plastics and rubber (16% to 470 units) and electronics (14% to 1,280 units). RIA believes that as robots have become more dexterous, safer, and available in a variety of form factors they have become more appealing to new users in a wide variety of industries.
"Despite the cyclical swing in automotive orders, which we've seen before, interest in new robotics technologies continues to grow," said Jeff Burnstein, president of RIA. "Today's robotics industry offers innovative products, competitive advantages, and fulfilling employment opportunities for a wide variety of companies. We've been saying for years that the future growth of robotics depended upon reaching beyond traditional customers in automotive, and now we're finally seeing that happen on a broader scale."
A total of 28,158 robots valued at $1.39 billion were shipped to North American companies in the first nine months of 2018, an increase of nine percent in units but a decrease of seven percent in revenue over the same period in 2017, which held the previous record. Robot shipments are a historically accurate indicator of the number of robots delivered and installed by North American customers. Alternatively, robot orders provide a glimpse of future market expectations.
Burnstein noted that RIA sees the rising interest in robotics reflected in the growth of its membership and networking events. In October, RIA reached a new membership milestone with 532 member companies from across the globe. The trade group also concluded its International Robot Safety Conference in Detroit and Collaborative Robots, Advanced Vision & AI Conference in Silicon Valley (co-hosted with RIA's sister association AIA), which together had record attendance.
With the advances in technology and emergence of new applications rapidly changing the robotics industry, RIA and its parent group the Association for Advancing Automation are expecting record participation at the Automate 2019 Show and Conference, April 8-11, 2019, at McCormick Place in Chicago, Illinois.
"Small and medium sized companies, many of whom are just now beginning to explore automation, make up the core of the Automate 2019 attendee base," said Burnstein. "Automate is designed to showcase the latest advances in robotics, machine vision, motion control, AI, and related automation technologies, while helping companies understand how to successfully apply them to meet their specific challenges."
The exhibition is free to attend, and registration is now open on the Automate 2019 website.
What's Related in Robotics
A3 announces call for 2019 Automate Launch Pad Startup Competition
Entrepreneurs vie for $10,000 cash award, spotlight at the April 8-11 Automate show and conference.
STOREPICK warehouse solution
Store-friendly deliveries and a redundant design.
Year in Review: Top materials handling news in 2018
In a healthy but fiercely competitive landscape, technology continues to play a pivotal role in the ongoing digital transformation of supply chains big and small.
Bill Bastian Sr. to retire after more than 63 years in the material handling industry
Bastian took over operations of what was then called Stark Company before purchasing the business in 1962.
Balyo announces 10-year renewal of contract with Hyster-Yale Group
Announcement coincides with market launch in Europe of the Hyster-Yale Driven by Balyo™ robotic lift trucks.
More Robotics
Related Topics
Automation
Economy
RIA
Robotic Industries Association
Robotics
All topics
Latest products
Super Air Wipe dries, cools & cleans small diameters.
Momentum™ warehouse execution system (WES) by Honeywell Intelligrated is a feature-rich software platform built to address the escalating…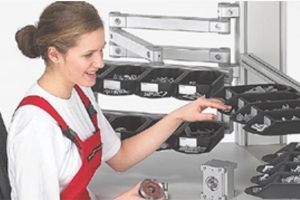 Customize workbench for optimized use.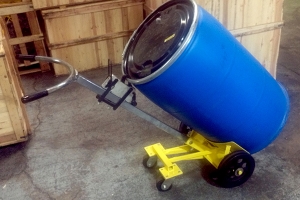 Handle rimmed drums with ergonomic hand truck.
Latest materials handling news