New order fulfillment system optimizes spare parts operation
Goods-to-person picking supported by mini-load AS/RS averted the need for DC expansion.

By
Josh Bond, Senior Editor
·
October 10, 2018
The Caterpillar parts distribution center in Morton, Ill., supports customers with aftermarket parts throughout the entire lifecycle of each Caterpillar machine. More than 1.4 million part numbers are available for shipment to customers in more than 150 countries. After installing a new goods-to-person order fulfillment system, the facility enhanced the customer experience while increasing operational efficiencies.
Each business day, the DC picks, packs and ships thousands of parts to fill normal re-stocking demand as well as urgent or unplanned requirements. The new automated order fulfillment system for parts distribution (Dematic) accommodates the entire receiving to shipping process for small and medium-sized parts, which are approximately 50% of the volume going through the DC. Traditional methods handle the largest and heaviest parts such as attachments and tires.
The functional modules of the goods-to-person system include inbound receiving, automated parts storage and the order picking workstations, which are connected by a network of conveyors, sorters and lifts. At receiving, racks of totes preloaded with spare parts inventory are loaded onto an accumulation conveyor buffer. The racks index on the conveyor to an automatic tote unloading station, which transports totes by conveyor to a mini-load automated storage and retrieval system (AS/RS). Empty totes are returned to suppliers.
The mini-load AS/RS uses robotic storage machines with automatic load-handling devices. Each has three load-handling devices allowing three inventory totes to be handled simultaneously. The inventory totes are stored and retrieved automatically from the high-density storage rack structure. The mini-load AS/RS is inherently modular and scalable. Tote storage locations can be added if more inventory or volume capacity is required to support customer demands.
Pickers remain at ergonomic workstations throughout the shift. Picking accuracy has increased since only one tote or bin with one part number is presented to an operator at a time. Independent workstations can be taken in and out of service depending on the daily volume requirements.
Caterpillar installed and transitioned to the new order fulfillment system during ongoing operations. The new system eliminated manual inventory replenishment, slotting and re-slotting, which has reduced order processing time, improved inventory and order accuracy, increased labor productivity and maximized the use of warehouse space. The new system also has additional parts storage capacity for future growth.
More Productivity Solution
Related Topics
Dematic
Productivity Solution
Storage
All topics
About the Author
Josh Bond, Senior EditorJosh Bond is Senior Editor for Modern, and was formerly Modern's lift truck columnist and associate editor. He has a degree in Journalism from Keene State College and has studied business management at Franklin Pierce University.
Latest products
Super Air Wipe dries, cools & cleans small diameters.
Momentum™ warehouse execution system (WES) by Honeywell Intelligrated is a feature-rich software platform built to address the escalating…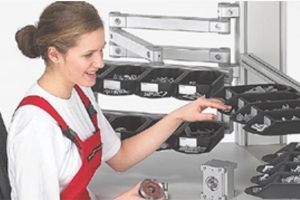 Customize workbench for optimized use.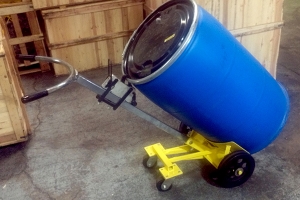 Handle rimmed drums with ergonomic hand truck.
Latest materials handling news