Labor Management navigates worker shortage
From the labor market to pressure on productivity levels, DC managers and supervisors are under great pressure to maximize efficiencies. Getting labor management right is a key factor in hitting those imperatives.

By
Gary Forger, Contributing Editor
·
February 11, 2019
A fundamental shift is underway in labor management best practices today. And it's coming none too soon.
As you well know, labor is tight and often on the move from one employer to another. And, we all know that's not going to change anytime soon. In fact, the Conference Board doesn't expect the blue collar labor shortage to improve until 2030 or later.
Meanwhile, distribution center managers are under constant pressure to improve productivity as the velocity of DCs continues to ramp up. Omni-channel and e-commerce are generally making the drive for higher performance even more acute—and that's not about to change either.
That confluence has created a pinch point that can be difficult to squeeze through on many DC floors. But it's not impossible.
"First-line supervisors and their managers need to focus on making associates confident and successful in their day-to-day activities," explains Jim Chamberlain, senior director of industrial engineering at third-party logistics provider DSC Logistics. "That requires an investment of time and effort to balance success with accountability."
Experts agree that a DC with that balance is a different kind of workplace.
"You can tell the difference when you walk into a well-run DC. People are working. They're moving. They know they will be rewarded, and it shows. Nobody wants to be at the bottom of the barrel in terms of personal performance," explains Steve Simmerman, senior director of JDA's global and alliance team.
Better yet, those workplaces typically have a much reduced turnover rate than other DCs that report turnover rates of 35% or more, says Simmerman.
Chamberlain says DSC Logistics' turnover rate attributed to its labor management program is less than 5% across 55 sites. "The only thing worse to us than losing an employee is a safety violation," he says. That's easy to appreciate for anyone who has interviewed 15 or 20 people just to find the one who both shows up consistently and does a good job.
Beyond measuring an individual's performance, "labor management is a retention tool," says Jon Kuerschner, vice president of supply chain solutions at HighJump.
That said, labor management is still building its base in DCs. Estimates for penetration of labor management software vary. But it is generally agreed that larger companies typically include the software when purchasing a warehouse management system (WMS). Smaller companies are not as enthusiastic while those with fewer than 100 employees use labor management software the least. But that doesn't have to be the trend going forward.

One-on-one coaching on the warehouse floor is most effective when using real-time data on tablets and other mobile devices.
---
Shifting attitudes
Making people confident and successful is a long way from the early days of labor management in the 1970s. Back then, it was all about accountability. The term Big Brother was often used by workers to express their level of appreciation for labor management practices.
And even today, some people still see Big Brother when it comes to labor management programs, says Peter Schnorbach, senior director of product management for labor management software at Manhattan Associates. That, he says, is still one of the big objections.
The other is most people think they are already as productive as they can be and resist the idea of labor management practices, adds Schnorbach.
Fortunately, labor management has changed at its core. It is now much more carrot than stick. It is now just one of the key components used to drive higher levels of employee engagement. Empowerment, growth, rewards and recognition have replaced the days of criticism that often drove employees to leave. That phrase, "days of criticism," sums up where labor management was.
"Employees shut down with the hammer approach," says Tom Stretar, vice president of labor management at enVista.
Leading companies today have replaced that with "a new line of thinking that is very collaborative," adds Daniel Sears, senior consultant at Tompkins International.

Or as Stretar says, "labor management programs need to focus on what the associate has done well and how a supervisor can help that person's performance."
That shift is fundamental to best practices in labor management today.
In most cases, software, either stand alone or tied in to a WMS, is preferred. It offers a range of unmatched capabilities to first-line supervisors and associates alike. However, software is not essential. What really matters is that attitude shift in how labor management is approached, even if it is managed by spreadsheet.
Nowhere is this more important, says Schnorbach, than with today's largest single demographic group in the workplace—millennials. "What drives them is different. For instance, flex time and time off are very important to them. With labor management software today, it's easy to measure performance and link that to specific benefits that motivate people out on the floor," says Schnorbach.
Linking performance to rewards underscores the seismic shift underway with labor management programs.

Today's labor management programs require supervisors to be out on the floor with associates investing in their success.
---
Making labor management work
"To maximize throughput, operations need to be able to measure what people are doing against what they should be doing," says Schnorbach. "Without a labor management solution, managers are forced to make educated guesses on how long a task should take and how productive the operation is. That lack of information usually limits a distribution center to function at about 65% of efficiency," he adds.
At the base of any labor management program is process standardization. Not the order fulfillment process in general, but the process of each task and its work requirements. More specifically, what does it take to pick an item, for instance. Considerations here include: weight and size of the item, accessibility in storage, equipment needed, travel time and experience of the associate, to name a few.
The intent is to take into account all of the factors that determine the time and effort required to retrieve that item and move it to its next destination. Those work requirements can then be applied to each associate in the DC, measuring their performance of the task against a pre-set standard.
Repeatability is critical here. It is the only way to ensure that all associates are measured equally and fairly. Without this article of faith, no labor management program has a chance of success.
"That's how you get alignment across the organization and all are held properly accountable," says JDA's Simmerman.
He goes on to tell the story of a temperature-controlled, third-party logistics provider. The majority of its DCs use labor and warehouse software. The idea is to standardize processes while it trains and tracks people and their activities. Most labor standards are written for an average worker at an average pace for an average work load.
Hitting those targets is where the collaboration between the software, first-line supervisors and associates comes together. It has to be a holistic approach to be sustainable over the long run, says Simmerman.
There's also the matter of scheduling flexibility, he continues. With mobile scheduling solutions, everyone wins. Associates benefit from much more flexible work schedules while these solutions improve schedule accuracy that drives even greater savings for managers.
Performance data is available to first-line supervisors on mobile devices directly from the labor and warehouse management systems. This allows them to meet with associates on the floor for a few minutes or longer using real-time data. As a result, associates know exactly how they compare to the work standard while in the middle of a shift.
Labor management works much the same way at DSC Logistics, says Chamberlain. "It is foundational that supervisors are out on the floor with people investing in their success. They can show people steps to be successful right at the time that it will do the most good," he adds.
It is also worth noting that labor management not only identifies individual inefficiencies but process inefficiencies, says Chamberlain. In other words, there are times when the people and the data can identify needed adjustments to how things are done not just how people do them.
Developing uses
As it turns out, labor management is not just about performance metrics.
"Another aspect here is putting people in the right jobs at a DC," says Sears of Tompkins. "What is best for them—picking, decasing, packing—you name it. What we're really after here is how does a DC make the best use of that person's abilities, and labor management can provide a baseline to make those decisions. It's all about flexibility," he adds.
And, he doesn't stop within one set of four walls. Sears sees labor management as a collaborative tool that can help an organization determine where to move people between DCs and even stores fulfilling e-commerce orders.
Labor management can also be used as a planning tool. Both Kuerschner of HighJump and Stretar of enVista start with labor planning.
Kuerschner talks about making on-the-fly staffing adjustments based on a department's progress on the day's orders. Imagine a shift is half completed but only 40% of the day's volume has been handled. Using labor management across the facility, supervisors can decide if associates from another department should be moved to the lagging department. And if so, how many.
Then there's the matter of tomorrow's work, says Stretar. Using multiple data sources—order management, warehouse management and enterprise resource planning (ERP)—what can be done to determine the next day's workload and the workforce needed to handle it. "This is not a cost reduction problem, but a matter of matching goods and people as needed," says Stretar.
Clearly, best practices in labor management have advanced considerably over the years. But even today, they are not stagnate, opening the door to flexibility and efficiencies that were difficult to imagine not that long ago.
---
Companies mentioned in this article
More Labor Management
Related Topics
enVista
HighJump Software
JDA
Labor Management
labor shortage
Manhattan Associates
All topics
Latest products
Design mezzanines with software.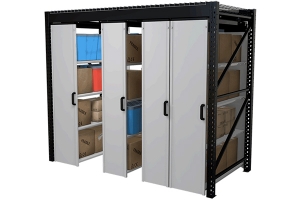 Integrate small parts storage with pallet racking.
Drop carton flow system into existing racks, shelves.
Store pipe, tubes, lumber on cantilever rack.
Latest materials handling news