Global manufacturer ensures accurate, high-volume labeling
Integrating labeling with SAP improves supply chain performance.

By
Josh Bond, Senior Editor
·
March 8, 2018
Since 1916, Modine Manufacturing Co. has provided thermal management solutions for a variety of applications and markets that include automotive, industrial power and HVAC. Headquartered in Racine, Wisc., the company's 11,200 employees work in operations that span the globe. To ensure accurate labeling in its worldwide operations, the company adopted an enterprise labeling system that also added flexibility and scalability.
Three SAP systems help manage the company's complex logistics. One system is in North America, one in Germany, and a third became part of the Modine family through a recent acquisition.
"When you're doing decentralized label printing, you need to have duplicate skill sets in each location," says Eric Richmond, director of enterprise resource planning (ERP) applications for Modine. "Plus, you end up with inconsistencies like labels that don't look professional and may not comply with requirements. With enterprise labeling, we've become more efficient, and we're producing higher quality labels."
Across Modine's full SAP landscape, about 1,000 bar code labels are required each month. Modine needed to ensure it could leverage its SAP implementation to streamline and improve its labeling process. The new enterprise labeling system (Loftware) simplifies label creation, enabling the company to meet a growing range of customer-specific label requirements.
The enterprise-wide approach allows Modine to integrate labeling with its existing SAP platforms to trigger and execute labels, eliminating the need to manually replicate data from one system to the next and ensuring end-to-end label accuracy.
Richmond says the new system has decreased the burden on the IT department. Secure access to an easy-to-use WYSIWYG interface enables less technical, more business-focused users to format labels. Key users are able to do this on their own, as there's no need for Advanced Business Application Programming (ABAP) in SAP. Label printing is triggered directly from SAP, so users aren't forced to learn a new application
or process.
Richmond says the flexible, scalable labeling solution has improved supply chain efficiency and label quality. Because of its success in using enterprise labeling with SAP's Materials and Warehouse Management, Production Planning, and Sales and Distribution modules, Modine is now exploring integrating Loftware within its MES and laboratory environments as well.
"This label design tool is the best I've encountered," Richmond says. "It's very simple and straightforward to use. We were able to begin printing production labels by the end of the first week of our install."
What's Related in Software
MATRIX suite of enterprise-level software
Software optimizes parcel and dimensioning systems.
New forklifts and telematics streamline operations
Updated fleet improves safety and reliability while cutting maintenance costs.
AIRPICK Sortation System
Efficient picking and smart returns handling.
Packaging Corner: Move from component-based to system-based design
Unit-load design software can improve the performance of an entire packaging system while simultaneously reducing cost and modifying the pallet design as needed.
2018 Top 20 supply chain software suppliers
While the top of the list remains stable, up-and-comers are mixing up the software landscape with Cloud capabilities that traditional vendors are working to replicate.
More Software
Related Topics
ERP
Labeling
Loftware
Software
All topics
About the Author
Josh Bond, Senior EditorJosh Bond is Senior Editor for Modern, and was formerly Modern's lift truck columnist and associate editor. He has a degree in Journalism from Keene State College and has studied business management at Franklin Pierce University.
Latest products
Design mezzanines with software.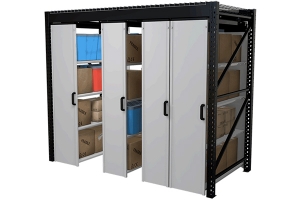 Integrate small parts storage with pallet racking.
Drop carton flow system into existing racks, shelves.
Store pipe, tubes, lumber on cantilever rack.
Latest materials handling news