A.B. Beverage: Putting rack, WMS and data collection to work
Conventional warehousing tools plus bar code scanning and voice have streamlined a beer distribution warehouse.

By
Bob Trebilcock
·
April 17, 2018
A.B. Beverage, Evans, Ga.
Square Footage: 50,000 square feet
Products Handled: Beer, craft beer, spirits and non-alcoholic beverages
SKUs: 1,200
Throughput: 9,000 cases a day
Shifts per day/ Days per Week: 2 shifts per day, 5 days a week
Employees in Fulfillment Operations: 11 employees
---
The redesign of A.B. Beverage's 50,000-square-foot distribution center, working in combination with a voice pick technology and a warehouse management system (WMS) designed for the beverage distribution industry has brought a new level of efficiency to the facility.
---
Read the full write up on the A.B. Beverage distribution center redesign.

---
Receiving
A.B. Beverage receives new product and re-stocks the pick line during the day shift to prepare for picking, which begins in the afternoon. Prior to shipment, suppliers send an advance ship notification (ASN) to the beer distributor's WMS system. When a truck pulls into the dock area (1), a receiver scans the truck and the product on the truck, which is matched against the ASN. Pallets are unloaded with a double lift pallet jack that can handle two pallets at a time. Meanwhile, the WMS checks the inventory and work load to see if there is an immediate need for the product, either on the floor or in pallet rack in the picking area (2). Otherwise, it can go into floor storage in reserve storage (3), the draft beer storage area (4) or the wine room (5).
Storage
Putaway is not system directed; rather, associates have the flexibility to determine the best available location for a pallet. In the pick area (2), pallets can be stored on the floor for picking or in single-deep selective rack (6) or three-deep, push-back rack (7) to replenish the picking slot. Each push-back rack holds three pallets. Given the variety of products, the facility also features keg rack (8) and seven-deep case flow rack for items ordered in smaller quantities (9). Wine is stored in a wine room (5). Once a location has been chosen, the associate scans the pallet into storage and it is available to promise. Since storage locations are tracked by the WMS, pallets can be put away randomly into reserve storage rather than storing all of one product in a set location.
Picking
Orders for next-day delivery begin to drop to the floor in the afternoon. The WMS considers multiple dimensions when creating a truckload. First, trucks are assigned to a route, so the system considers route stops. In addition, it creates pallets of cans, pallets of bottles and pallets with items that don't stack well to create a more stable load. Finally, it determines the best way to load the truck for a stable ride. Pick assignments are delivered to associates by voice in sequence so the first pallet to go on the truck is the first pallet picked. After the associate makes a complete pass through the pick line, the voice system says "assignment complete" and the associate drives to a printer (10) to pick up the license plate bar code label. The pallet is then dropped off on a scale in the scale/wrapping area (11). If the weight is within tolerances, the pallet is stretch wrapped and loaded onto the truck in the dock area (1). The fleet includes end loading and side loading trucks. The process is repeated until a load is complete.
---
A.B. Beverage's System Suppliers
Rack Storage: Twinlode
System Integrator, Consulting: PDC
WMS: VIP
Mobile Computing & Wristmounted Scanner: Motorola (Zebra Technologies)
Voice Pick: Honeywell (Vocollect)
Lift Trucks: Yale Materials Handling
Stretchwrap: Lantech
More System Report
Related Topics
Lantech
Rack
Storage
System Report
Vocollect by Honeywell
All topics
About the Author
Bob TrebilcockBob Trebilcock, editorial director, has covered materials handling, technology, logistics and supply chain topics for nearly 30 years. In addition to Supply Chain Management Review, he is also Executive Editor of Modern Materials Handling. A graduate of Bowling Green State University, Trebilcock lives in Keene, NH. He can be reached at 603-357-0484.
Latest products
Super Air Wipe dries, cools & cleans small diameters.
Momentum™ warehouse execution system (WES) by Honeywell Intelligrated is a feature-rich software platform built to address the escalating…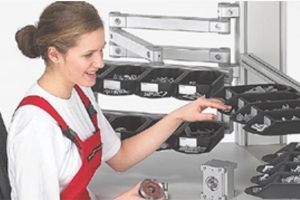 Customize workbench for optimized use.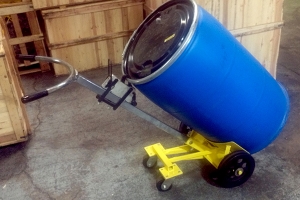 Handle rimmed drums with ergonomic hand truck.
Latest materials handling news