Zebra Technologies appoints Steve Williams as chief supply chain officer
Williams joins Zebra with more than 20 years of global tech experience in supply chain.

By
MMH Staff
·
December 4, 2018
Zebra Technologies Corporation has announced the appointment of Steve Williams as chief supply chain officer.
In this role, Williams will be leading Zebra's Global Supply Chain, Global Services and the company's newly named Supply Chain and Services Project Management Office. He succeeds Hugh Gagnier who is retiring after a 20-year tenure at Zebra.
Williams joins Zebra with more than 20 years of experience including global leadership roles in supply chain, manufacturing, finance, acquisition integration, and business and sales operations spanning industries such as banking, semiconductors equipment manufacturing, and networking.
"Steve brings a wealth of experience and proven leadership to Zebra," said Anders Gustafsson, chief executive officer of Zebra Technologies. "I am confident he will be a great addition to our executive leadership team and expand on the great momentum already built within our existing Global Supply Chain and Global Services teams."
Gustafsson continued, "We are grateful for the contributions Hugh made to Zebra. He has been a great cultural role model and leaves a powerful legacy. We wish him well in his retirement."
Most recently, Williams served as vice president, Americas, supply chain operations for Cisco and was responsible for the operational performance of all manufacturing in the Americas including logistics, transportation, distribution, and warehouse operations.
"I am excited to join Zebra with its focus on providing innovative solutions that transform workflows and enable the front line at the edge of the enterprise to be connected and optimally utilized," said Williams. "We have a strategic opportunity to give our customers greater visibility into their operations as we – under this newly combined team – will have a deeper focus on our end-to-end supply chain from product innovation through product delivery and support."
What's Related in Zebra
Modern Mobility: Wear it while you work
In the hunt for the next level of productivity, mobile devices can help pave the way—if they can get out of the way.
Zebra Technologies to acquire Temptime Corporation
Acquisition to expand solutions for healthcare industry as well as food safety and other applications that can benefit from increased asset visibility.
Next-Generation Data Capture Emerges
New types of "edge" technologies promise new options for real-time location insights. Learn how these emerging forms of data capture might supplement traditional AIDC as well as the importance of software platforms, analytics and applications that take advantage of real-time location data.
Zebra label print-and-apply systems
For high performance label printer applicators with the best in industrial print engines, look to FOX IV's Zebra-based line of print and apply equipment.
Zebra's 11th annual Global Shopper Study reflects shoppers, associates and decision makers
52% of retail decision makers are converting point-of-sale (POS) space to self-checkout, and 62% are transforming it for online order pickup.
More Zebra
Related Topics
Mobile
Mobile Computing
Supply Chain
Zebra
All topics
Latest products
Design mezzanines with software.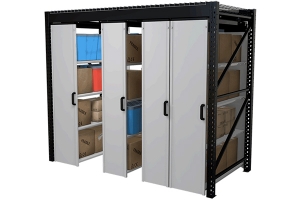 Integrate small parts storage with pallet racking.
Drop carton flow system into existing racks, shelves.
Store pipe, tubes, lumber on cantilever rack.
Latest materials handling news