Robotic rotary palletizers find new use
Robotic rotary palletizers address ergonomics and the workforce shortage with high throughput in a compact footprint.

By
Sara Pearson Specter
·
February 8, 2019
Originally designed for building pallet loads of heavy cases in freezers, BW Integrated System's robotic rotary case palletizer has been increasingly deployed to create shipping pallets of lighter weight products from general warehouses, explains Eric Rohlf, the company's value stream leader for robotics.
"Given the rising cost of labor, the shortage of available workers and ergonomic concerns, we've seen a significant uptick in interest for this product," he says. "When compared to conventional palletizing, this machine can build eight different pallet loads in a far more compact footprint that saves up to 50% of floorspace."
Configurations differ by application, but the system includes a robotic arm that builds up to eight separate pallet loads arranged around it. Cartons arrive at the robotic rotary palletizer on a single infeed conveyor. The different stock keeping units (SKUs) are identified with a bar code camera and placed on one of the eight full pallet build positions.
Completed loads exit onto a transfer conveyor that delivers them to a stretchwrapper. The robot pulls empty pallets from a pallet stand and can even build two half-height loads—one on top of the other—in a single position.
Loads built with cases weighing less than 40 pounds can be stacked up to 110 inches, explains Rohlf, while heavier products are limited to 55-inch heights.
"We use a robot with greater payload capacity to pick heavier product or a long reach robot for lightweight, tall loads. Either way, the robotic solution is far more ergonomic and faster than having a person build the load because a single cell can handle up to eight cases per minute."
For greater throughput, two systems are installed side by side. "We're often asked to handle 12 to 15 products at one time, realized with a pair of machines to achieve rates up to 16 cases per minute as they simultaneously build eight pallets apiece. For even faster rates, we can also pair cases up before sending them to the robot."
While an investment in one or two robotic rotary case palletizers is not insignificant, it's vastly more affordable than a sortation system diverting cases to multiple conventional or robotic palletizers, Rohlf adds. "It also saves a tremendous amount of square footage, while eliminating the risk of injury to a worker."
What's Related in Palletizing
Robotic rotary palletizers find new use
Robotic rotary palletizers address ergonomics and the workforce shortage with high throughput in a compact footprint.
Automated palletizing system bears fruit for Wonderful Citrus
The system has increased line productivity by 15%.
Arvato SCM Solutions: Fashion Logistics
At its Hannover, Germany, facility, e-commerce logistics provider Arvato SCM Solutions is using pouch sortation technology to speed orders to market and dramatically reduce its returns processing time for a fashion leader.
Columbia Machine announces partnership with OTTO Motors
Manufacturer and integrator of robotic palletizers and load transfer station partners with supplier of autonomous vehicles.
Finding Answers to: No Time, No Tools, No Talent
The latest developments in unitizing equipment and software are helping customers tackle packaging challenges.
More Palletizing
Related Topics
Conveyors
Packaging Corner
Packaging Systems International
Palletizing
All topics
About the Author
Sara Pearson SpecterSara Pearson Specter has written articles and supplements for Modern Materials Handling and Material Handling Product News as an Editor at Large since 2001. Specter has worked in the fields of graphic design, advertising, marketing, and public relations for nearly 20 years, with a special emphasis on helping business-to-business industrial and manufacturing companies. She owns her own marketing communications firm,
Sara Specter, Marketing Mercenary LLC
. Clients include companies in a diverse range of fields, including materials handing equipment, systems and packaging, professional and financial services, regional economic development and higher education. Specter graduated from Centre College in Danville, Ky. with a bachelor's degree in French and history. She lives in Oregon's Willamette Valley where she and her husband are in the process of establishing a
vineyard and winery
.
Latest products
Design mezzanines with software.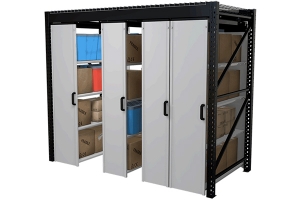 Integrate small parts storage with pallet racking.
Drop carton flow system into existing racks, shelves.
Store pipe, tubes, lumber on cantilever rack.
Latest materials handling news