ProMat 2019 to showcase record number of exhibitors, 45,000+ attendees
Manufacturing and supply chain expo is scheduled to be held April 8-11 at Chicago's McCormick Place and co-locate with Automate 2019.

By
MMH Staff
·
February 11, 2019
ProMat 2019 is set to welcome more than 45,000 visitors to "Find Your Wow," the solutions that keep supply chains moving forward, in the North and South halls of McCormick Place from April 8-11. Spanning a total of 420,000 square feet, there's bound to be plenty of innovation and ideas in every corner of the materials handling industry's premier trade show and educational conference, sponsored by MHI.
"We've joined forces with Automate 2019, which highlights North America's broadest range of automation solutions," says George W. Prest, CEO of show sponsor MHI. "The two shows bring together more than 1,350 exhibitors across 535,000 square feet—a record number—plus an expanded agenda of educational and networking offerings. Attendees can maximize their time and easily connect with the information and tools they need to tackle today's constantly changing business environment."
Additionally, ProMat will include 130 on-show-floor educational sessions in multiple theaters in two halls, four keynotes, a special education and networking session for women in the supply chain, and networking opportunities both formal and informal.


As always, the ProMat show floor is divided into different solution centers to help visitors navigate the exhibits. They include:
Fulfillment & Delivery: Located in Hall B, this area gathers solutions for order fulfillment, order picking and packaging, third-party logistics, warehousing, distribution and transportation.
Information Technology (IT): Found close to the on-floor theaters in Hall B, this solution center highlights supply chain software solutions, RFID, auto-ID and data collection, transportation management systems, manufacturing execution systems, logistics execution systems, enterprise resource planning and order management systems.
Manufacturing & Assembly: Split between Halls B and C, this solution center includes automated assembly support, intelligent devices, ergonomic and safety equipment, workstations, light-rail and other assembly assist equipment and systems for the manufacturing environment.
Emerging Technology: Located in Hall C, this solution center gathers robotics, sensors, augmented reality wearables, automated storage and retrieval systems, self-guided and autonomous vehicles, driverless trucks, drones and Industrial Internet of Things, blockchain, predictive analytics and artificial intelligence technologies.
Sustainable Supply Chain: Housed in Hall C, this solution center features alternative and renewable energy and fuel systems, recyclable packaging and shipping materials, energy-efficient lighting, high-volume/low-speed fans, energy-efficient equipment and sensors, daylighting technologies, sustainable facility planning, power regeneration technologies.
The Knowledge Center: With on-show floor theaters in Hall B and C, this solution center offers resources to educate and build awareness of what the materials handling and logistics industry has to offer the supply chain as a whole.



Further, ProMat will showcase four separate keynote presentations, all held in the McCormick Place South Grand Ballroom (S100):
---
Monday at 8:45 a.m., Karim R. Lakhani, professor at the Harvard Business School, will discuss "Blockchain Technology for Supply Chains," detailing how incorporating this technology into operations can have a tremendous impact on transparency, identity and trust, payments, flexibility and responsiveness—resulting in a more efficient, cost-saving, risk-reducing supply chain.
---
Tuesday at 8:45 a.m., "Closing the Supply Chain Gender Gap" will be presented by Reshma Saujani, founder and CEO of Girls Who Code, a national non-profit organization working attract more women to technology careers.
---
Wednesday at 8:45 a.m., MHI will release its "2019 Annual Industry Report," developed in partnership with Deloitte Consulting. A panel of industry insiders will discuss the report's key findings, moderated by MHI CEO Prest and Scott Sopher, a principal in Deloitte's supply chain practice.
---
Also Wednesday, at 1:00 p.m., Marcus Lemonis, a serial entrepreneur and business advisor on CNBC's "The Profit" will share "The Three Keys to Business Success: People, Process, Profit."
---
In addition to the keynotes, the ProMat Education Conference features 130 show floor seminars in enclosed theaters located in both North and South exhibit halls—including 17 automation and robotics focused sessions presented as part of the co-located Chief Robotics Officer (CRO) Summit. Also, on Wednesday only, the Crane Manufacturers Association of America (CMAA) will host its Overhead Crane Safety Conference from 7:30 a.m. to 4:30 p.m. (separate fee and registration required). Student Days returns on Wednesday and Thursday, bringing the workforce of the future (and their instructors) to the show floor and on tours of a local automated manufacturing/distribution facility.
Registered ProMat attendees not only gain full access to the North and South exhibit halls, but also free entry into Automate 2019, also housed in the North Hall across 115,000 square feet of exhibition space.
Keeping its focus on workforce, MHI is again presenting the "Women in the Supply Chain Industry Forum" in partnership with the Material Handling Equipment Distributors Association (MHEDA). The forum will be held Monday from 12:30 to 4:30 p.m. in Room S102BC. Paid pre-registration is required.
Maximize your time with 1 badge, 2 shows
With ProMat 2019 spanning both McCormick Place's South and North halls—and Automate again co-located alongside ProMat exhibits in the North Hall—your single registration gets you double the access. Both shows run Monday through Thursday (April 8-11) and share identical hours: Monday through Wednesday, 10:00 a.m. to 5:00 p.m., and Thursday, 10:00 a.m. to 3:00 p.m.
"ProMat 2019 will be the largest on record, with 950 exhibitors covering more than 420,000 square feet. When you combine that with the Automate co-location, the two shows will total more than 1,350 exhibitors and 535,000 square feet of exhibits," says George W. Prest, CEO of MHI. "Bringing Automate and ProMat 2019 together allows manufacturing, distribution and supply chain professionals unparalleled education and networking opportunities, as well as exposure to the largest equipment and technology display of any show of its kind in North and South America."
Automate—like MHI-sponsored ProMat—is held once every two years. The show highlights the latest in robotics, machine vision, artificial intelligence (AI), motion control and related technologies.
Chief Robotics Officer (CRO) Summit Sessions
Free to ProMat Attendees
For the first time, the Chief Robotics Officer (CRO) Summit is co-located with ProMat. Consisting of 17 separate conference sessions—all free to ProMat attendees—the summit will share insights from automation and robotics users. The sessions will be located in the RoboBusiness Theater and the Emerging Technology & Sustainability Theater on the McCormick Place North Hall ProMat show floor.
Conference sessions start at 10:30 a.m. Monday, Tuesday and Wednesday and run throughout the day. Topics include: how to secure funding to support an automation implementation; devising a metrics system to measure ROI; developing a roll-out strategy to achieve solid adoption and implementation; and strategies to secure management buy-in.
Crane Manufacturers Association
Safety Conference
On Wednesday only, the Crane Manufacturers Association of America (CMAA) will host its Overhead Crane Safety Conference from 7:30 a.m. to 4:30 p.m. in McCormick Place South room S105ABC (separate $525 registration fee required). This conference will focus improving the safety and use of cranes for an increase in productivity and lifespan.
Plant operations and maintenance staff—including managers, engineers and crane technicians—are encouraged to attend; participants earn seven professional development hour credits. More information and registration can be found at cmaacranesafety.org; Attendees already at ProMat who wish to join this separate session can register online and provide payment at the door.
Free seminars on show floors share materials handling, supply chain knowledge
Think you know everything there is to know about how materials handling makes supply chains work? Not so, according to the experts presenting more than 130 free on-floor educational sessions. The sessions are housed in theaters located on the South and North show floors.
Topics range from best practices reviews to maintenance to metrics. Detailed abstracts of each session, with key takeaways for attendees, are included at promatshow.com and the ProMat app. Presentations are first-come/first-served with no standing room allowed.
"The On-Floor Seminars are presented by industry experts in supply chain solutions," says Viche' Thomas, MHI's education coordinator. "It's a unique opportunity for attendees to learn more from exhibitors and Industry Groups about the latest supply chain technologies and trends."
In the South Hall, nine separate theaters are located on the far back right corner. In the North Hall, two theaters—The Emerging Technologies & Sustainability theater and the Robotics Business Review Emerging Technologies theater—are located in the Emerging Technologies solutions center on the left wall.
Seminars run from 10:30 a.m. to 4:30 p.m. Monday through Wednesday, and on Thursday from 10:30 a.m. to 1:30 p.m. Sessions on Thursday are repeats of presentations shared Monday through Wednesday, giving attendees a second chance to catch a seminar they previously missed.
Additionally, several MHI Industry Groups will be presenting the latest insights into their technologies. These sessions typically feature two or three panelists from different companies discussing new developments, applications and uses for the equipment represented by their group. "We always see a lot of interest and high attendance levels generated by the Industry Group sessions in particular," Thomas adds.
The schedule of Industry Group sessions in the South Hall theaters includes:
MONDAY
"Applications Segmented by Subdivisions," presented by Automatic Guided Vehicle Systems (AGVS), 11:15 a.m. – 12:00 p.m., Theater B
"Benefits of ASRS for Warehouse Automation," presented by Automated Storage/Retrieval Systems (ASRS), 11:15 a.m. – 12:00 p.m., Theater F
"Fully Diagnose the Problem Before You Prescribe the Cure," presented by Ergonomic Assist Systems and Equipment (EASE), 2:15 – 3:00 p.m., Theater B
WEDNESDAY
"Latest & Greatest Industry Innovations," presented by the Solutions Community of MHI, 10:30 – 11:15 a.m., Theater C
"Rack Safety, Inspection and Repair," presented by Rack Manufacturers Institute (RMI), 11:15 a.m. – 12:00 p.m., Theater F
"Warehouse Racking Systems for the E-Commerce World," presented by Rack Manufacturers Institute (RMI), 2:15 – 3:00 p.m., Theater B
"Industrial Internet of Things… A Path to Predictive Analysis," presented by Conveyor & Sortation Systems (CSS), 3:00 – 3:45 p.m., Theater A
"Cloud-Based Deployment / Internet of Things / Software for AGVs," presented by Automatic Guided Vehicle Systems (AGVS), 3:00 – 3:45 p.m., Theater C
If you miss a session—or can't decide between two being held at the same time—you can still view and hear its content later. All of the PowerPoint Presentations will be captured in PDF format and synchronized in a Flash file with audio recordings of each session. These files will be posted to promatshow.com after the conclusion of ProMat.
For attendees seeking more networking opportunities, MHI's Young Professionals Network (YPN) will host a free meet-and-greet reception in Room S102D in the South Hall on Tuesday evening—no advance registration required. Running from 5:00 to 6:00 p.m., the event is open to current and prospective members of the group as a chance to network and connect with other young professionals in the industry.
What does require registration and pre-purchased tickets ($50 each) is MHI's Industry Night. Held on Wednesday, from 4:30 to 7:00 p.m. in the McCormick Place South Grand Ballroom (S100), the event includes networking and a chance to win a "Trip of a Lifetime" luxury package, valued at $30,000, to a location of the winner's choosing (see official rules at promatshow.com/attendees/rules). Other highlights include the presentation of the Innovation Awards and the 2019 Young Professionals Network Awards. Comedian, actor and late-night talk show host Craig Ferguson will entertain. A portion of the ticket sales will be donated to the Material Handling Education Foundation Inc. (MHEFI).
More details about all ProMat-related events can be found in the official mobile app. Available free at Android and Apple app stores, downloading information can be found at promatshow.com/app.
What's Related in ProMat
ProMat 2019: Get the lay of the land with a show map
Find your way around McCormick place North and South.
ProMat 2019: Four keynotes examine trends, share insights
All keynotes will be held in the McCormick Place South Grand Ballroom (S100)
Meet the ProMat 2019 Show Daily team
Meet Modern's team of editors covering ProMat 2019 in Chicago.
This Month in Modern: Feeling overwhelmed? Take some strategic steps
You can let yourself get caught up in this whirlpool, or you can take a step back, think through what your operation needs to keep pace with today's demands, and then take action to control what you can control.
ProMat 2019 to showcase record number of exhibitors, 45,000+ attendees
Manufacturing and supply chain expo is scheduled to be held April 8-11 at Chicago's McCormick Place and co-locate with Automate 2019.
More ProMat
Related Topics
MHI
ProMat
All topics
Latest products
Design mezzanines with software.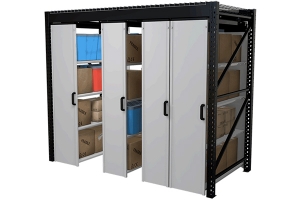 Integrate small parts storage with pallet racking.
Drop carton flow system into existing racks, shelves.
Store pipe, tubes, lumber on cantilever rack.
Latest materials handling news