New warehouse gives winemaker a "Smooth Finish"
To support growth and efficiency in an area prone to earthquakes, new rack protects priceless vintages and ensures productive operations.

By
Josh Bond, Senior Editor
·
April 16, 2018
Winemaking is a fickle business in the best of circumstances, but active fault lines add a thrilling dimension to the storage of high-value goods. The magnitude 6.0 earthquake that struck the West Napa Fault in 2014 caused estimated damage in excess of $300 million, and the region's 500 winemakers were particularly hard hit. Although it escaped significant damage, Hall Wines knew it might not be so lucky next time. When the company moved into a new warehouse, it identified seismic protection as a central objective while updating its storage and fulfillment processes.
Gary Cisneros, shipping and inventory manger for Hall Wines, is responsible for the safekeeping of Hall's "library" of wines, a collection of past vintages that serve as reference points for future ones. Hall only stores a maximum of 28 cases of library wines. None exist anywhere else, unless Hall could somehow purchase them back from customers. Cisneros says the library is critical to determining the aging process for other inventory, as the wines are periodically sampled for tastings to compare to new vintages.
"The information we get from those wines is priceless," Cisneros says. "We analyzed the cost of the racking and compared it to the potential loss of inventory and figured we could justify the investment to protect it."
Although the existing rack complied with the region's building codes, the company pursued specialized seismic-resistant rack to minimize the risk of losing irreplaceable resources. As with any reference material, the library becomes richer with age, serving as a record of a winery's history. Hall's history spans more than 100 years and, if Cisneros has anything to say about it, earthquakes won't stop the library from safely chronicling the flavors of the next century.

Gary Cisneros, shipping and inventory manger for Hall Wines, is charged with protecting priceless inventory while supporting company growth.

---
The aging process
Kathryn and Craig Hall acquired the historic St. Helena Bergfeld Winery in 2003 and re-opened as Hall St. Helena in July of that year. The location was once the home of the Napa Valley Co-Op that produced 40% of Napa Valley's wines. In 2013, The Hall family completed the restoration of the 1885 Bergfeld Winery, which became California's first LEED Gold Certified winery thanks in part to its acre of solar panels and 100% recycled water used throughout its processes.
Although the winery was now state-of-the-art, the warehouse was a different story. In 2015, the company was shipping 50,000 packages of between one and 12 bottles each year from a facility measuring about 5,000 square feet. The cramped space was comprised of five separate units of 1,000 square feet each, divided by walls, office spaces and bathrooms in each unit. Overhead clearance only allowed for 14-foot rack. Given the limited space, the wine library was housed elsewhere in a facility designed for long-term storage.
The tight and awkward warehouse was not conducive to efficient operations, Cisneros recalls. In addition to the fulfillment of small direct-to-consumer orders, the facility had to handle the occasional corporate order. Such orders required wine to be packed into between 50 and 600 individually shipped gift sets. These projects required floor space for staging and pre-packaging, after which the orders were moved back into storage before being pulled once again for shipment. If one or more projects overlapped, the management of goods and space required some creative thinking.
"It was just a reactionary process of putting out fires and trying to get it done no matter how many times we had to pick, pack, palletize, stage, store and pick again," Cisneros says.
When Hall moved into a 20,000-square-foot warehouse, Cisneros took the opportunity to design a much more palatable space.
A balanced blend
The old rack was initially moved into the new warehouse, where Cisneros set about designing processes and workflows in a refreshingly rectangular building. Receiving occurs at the northwest corner, and the pallet rack is on the south side close to the offices. The fulfillment work flows south to north to the shipping docks.
There are about 2,000 square feet of space left open for the staging of inbound shipping materials. Finished product is also staged there before it goes out. Although inbound and outbound are technically the same area, Cisneros says broader adjustments in material flow prevent the competition for space that was common in the old facility.

New racking required new forklifts and new processes for storage, fulfillment and inventory management.
---
"We bring in product weekly, and we know next week it will go out," he says. "In the old facility, we got multiple deliveries weekly, and they came and went right away. There was no rhythm, we tackled any project as it came along. Employees like it much better because we don't have to double-touch everything, and we're not in such a hurry. There used to always be a rush to get product out before the next product came in."
Another 2,000 feet are reserved for the wine club processing line. Once a quarter, a few thousand of the same product are packaged and shipped to members of the wine club. Consisting of counter tops, flex conveyor and a taping machine—all on casters—the line is portable to use the equipment elsewhere as needed or free up space for other projects like corporate orders.
"We suddenly had more space than we needed, so to save on costs, we moved more inventory into the facility," he says. "The library had been in a different facility made for long-term inventory. When we decided to move that much product in, we realized we needed different pallet racking than what we already had."
When reviewing alternatives to the old racking inherited from the previous building, Cisneros asked his partners at Material Handling Design & Equipment for a sturdier, earthquake-resistant solution. They recommended seismic base isolators (Ridg-U-Rak).
"We watched a video showing the isolators violently moving during a test that mirrored the 6.9 Loma Perata earthquake," Cisneros says. "The rack was stacked with an assortment of product and none of it fell off. The same test using fixed rack lost almost all of its load. We did the math, and if we were to lose one pallet of wine, it would almost pay for the entire racking."
The new rack offers more than 500 pallet positions with nearly 100 base isolators installed with the upright frames. With the new 22-foot-tall rack, Cisneros also upgraded the lift truck fleet accordingly.
"From an operational point of view, the isolators are a great solution," he says. "They're almost undetectable as they fit neatly under the rack's upright frames, and they don't interfere with our lift trucks moving in and around the rack."
Room to breathe
Having already eliminated the need to store on the floor, the racking was designed to a five-year plan.
"I now feel we will have enough space to be comfortable and not be inundated with materials in four years," Cisneros says.
There are four rows of rack, each row is five pallet positions tall. The aisle closest to the dock houses the pick and pack line. Here, associates can access 76 floor-level full pallet locations that each house 56 cases of the fastest-moving wines.
The second level consists of two half-pallet locations that each store 28 or 14 cases of slower-moving wines. The topmost two pallet positions hold full pallets for replenishment of pick locations. The library is stored in locations between full pallet storage and the pick faces. All together, 700 locations contain various amounts of Hall's roughly 60 varieties of wine.
For a winery, the goal is to eventually sell out of each product, and when the next vintage is released, it is likely to be a fast-mover and is stored in the floor-level pallet positions. What's left of the previous vintage goes to the second level in whatever quantities remain. Once that number dips below the 14-case mark, cases are consolidated onto a pallet, which is tagged with its contents, wrapped and put into reserve storage.
When a customer requests one of these vintages, Cisneros can say quickly and with certainty that yes, there is a case and a half left. The pallet is retrieved, the order picked, the pallet's contents updated, and another customer is satisfied.
"Our accuracy has increased a lot since the old facility," Cisneros says. "That's one of the reasons I decided to design plenty of 28-case locations, since before we were always consolidating 56 cases onto one pallet just to get as much product as possible into the racks."
Hall's fulfillment operations have come a long way in the eight years Cisneros has been with the company. In just the past two years, the operation has now become much more efficient, Cisneros says, and now ships 70,000 packages per year, up from 50,000.
"We're doing more with the same staff, since we don't have to touch things multiple times anymore," he adds. "We're still a growing company, so we don't yet have any carton flow or anything like that, but because of the warehouse organization we are now able to produce higher volumes."
What's Related in Rack
Other Voices: Understanding your options for bulk location warehouse signs
Important areas of consideration include sign material, location and installation.
Three ANSI standards on industrial shelving, work platforms and ladders released
The Storage Manufacturers Association (SMA) industry group of MHI has announced that updates to two ANSI standards will be available for download at no charge. The standards are ANSI MH28.2-2018 and ANSI MH28.3-2018.
Hall Wines purchases base isolators for future seismic protection
Nearly 100 base isolators are safeguarding a large inventory of vintage wines.
Cold storage distributor optimizes rack to continue expansion
Custom drive-in rack enhances longevity and access.
Don't Underestimate Rack Maintenance & Repair
Typically overlooked, rack structure condition should be inspected regularly and be repaired rather than hoping all is well.
More Rack
Related Topics
Fulfillment
Rack
Ridg-U-Rak
Storage
All topics
About the Author
Josh Bond, Senior EditorJosh Bond is Senior Editor for Modern, and was formerly Modern's lift truck columnist and associate editor. He has a degree in Journalism from Keene State College and has studied business management at Franklin Pierce University.
Latest products
Super Air Wipe dries, cools & cleans small diameters.
Momentum™ warehouse execution system (WES) by Honeywell Intelligrated is a feature-rich software platform built to address the escalating…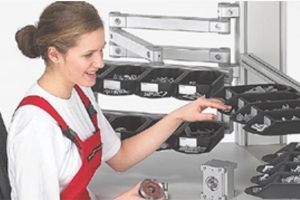 Customize workbench for optimized use.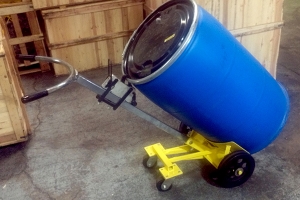 Handle rimmed drums with ergonomic hand truck.
Latest materials handling news