NAM, manufacturers nationwide partner to recruit next generation on Manufacturing Day
At thousands of events, manufacturers open their doors and minds to show students, teachers and parents the truths about modern manufacturing.

By
MMH Staff
·
October 5, 2018
Today the National Association of Manufacturers (NAM) and its social impact arm, The Manufacturing Institute (MI), will hold the seventh-annual Manufacturing Day.
The NAM and MI are partnering with manufacturers nationwide to educate the next generation on 21st-century, modern manufacturing opportunities. By opening their doors for nearly 3,000 events across the country, manufacturers will help change perceptions of the industry, which is essential to solving the skills gap crisis. President Donald Trump marked Manufacturing Day with a presidential proclamation highlighting the importance of manufacturing to the American economy.
"On Manufacturing Day, manufacturers across the nation will open their doors and minds to students, parents, educators and community members to reveal the truths of 21st-century, high-tech and well-paying manufacturing careers. Manufacturing optimism and the expected rate of manufacturing job growth is near record highs thanks to bold tax reform, but the industry is also facing a workforce crisis. Manufacturers need the next generation to join the team," said NAM President and CEO Jay Timmons, who also serves as board chairman of The Manufacturing Institute. "We're grateful for the generous support of all of our sponsors and excited to work together to show young people the opportunities that exist to create, design and make in America and inspire them to pursue a rewarding career in modern manufacturing."
Manufacturing Day national sponsors include PTC, Ariel Corporation, Cooper Standard, Harley-Davidson, PepsiCo, the Plastics Industry Association, Samsung and Walmart.
According to the Bureau of Labor Statistics (BLS), there are currently 506,000 open manufacturing jobs in the United States. This is the highest number of open jobs in the sector since the BLS introduced the Job Openings and Labor Turnover Survey in December 2000.
First held in 2012 and organized by its founder—the Fabricators & Manufacturers Association, International—Manufacturing Day gives manufacturers the opportunity to address the skills gaps they face, connect with future generations, take charge of the public image of manufacturing and ensure the ongoing prosperity of the industry as a whole. Learn more about Manufacturing Day and the significant impact this event has across the nation here.
More Manufacturing Day
Related Topics
Education
Manufacturing
Manufacturing Day
Manufacturing Institute
National Association of Manufacturers
Workforce
All topics
Latest products
Super Air Wipe dries, cools & cleans small diameters.
Momentum™ warehouse execution system (WES) by Honeywell Intelligrated is a feature-rich software platform built to address the escalating…
Ideal for general warehousing, distribution, general manufacturing, retail, food storage and cold storage applications.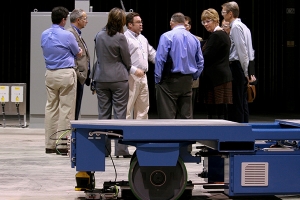 Wingspan Technology Increases Capacity by 200%
Latest materials handling news