MRO shop improves visibility with LED upgrade
Manufacturer uses display-ready, shared half pallets to eliminate product damage and customer complaints.

By
Josh Bond, Senior Editor
·
April 12, 2018
Since 1956, Duncan Aviation has grown to become the world's largest privately owned business jet support facility. With nearly 40 locations in the United States, the company provides aircraft acquisition and sales, airframe and engine maintenance, avionics installations, interior refurbishment and customization, and instrument repairs.
Its Battle Creek, Mich., site is an eight-hangar, full-service MRO facility supporting the needs of government and business operators around the world. After upgrading to LED lights, the facility has improved visibility and safety while significantly reducing maintenance and energy expenses.
Originally lit with 1,000W metal halide fixtures, the hangars suffered a visibility problem. With just 45 to 50 footcandles on the ground, technicians often had to use headlamps to see clearly. The lights tended to yellow with age and were expensive to operate. In Hangar 4, a paint spray facility, the challenge was even more pronounced. Because there were no Class I Division 1 certified metal halides available, the fixtures were mounted above a piece of suspended Plexiglas, sealed off from any paint fumes and spray. The combination of poor light quality, deteriorating output and overspray on the Plexiglas shield created very poor visibility.
Lighting maintenance was also becoming a chore. The metal halides required new bulbs every 14 to 15 months. With nearly 50 fixtures per hangar, that meant the company's electrician was changing bulbs out once or twice a month in each building.
The new high-output, 60,000-lumen high-bay LED fixtures (Dialight) draw 480W per fixture, cutting energy consumption by 44% while providing the perfect form factor to mount flush into the existing metal halide recessed holes in the ceiling. As an added bonus, each fixture has a 10-year warranty.
"We just fell in love with the quality of light," says Ryan Herbstreith, facility services manager. "It's absolutely amazing, like a night and day difference. The guys love it, and they want to know when we're going to replace the lights in Hangar 3 and all the other hangars."
Light readings are now topping 105 to 115 footcandles—at least double the light efficacy on the ground—while using fewer watts per fixture. Because they no longer have to worry about changing out light bulbs every few weeks, they've been able to eliminate the cost of ordering bulbs by the case and the time spent changing them—about a $2,300 annual savings.
"Our paint department especially loves it because it's a more natural light," Herbstreith said. "They want to do a lot more of their detail work in Hangar 2 because the light is so crisp, and it makes new paint just really pop and looks amazing." Because of the success with the upgrades in Hangars 2, 4 and 8, Duncan Aviation plans to upgrade Hangar 3 with 49 new fixtures, followed by two more hangars as soon as possible.
What's Related in LED
Opti-Brite LED headlamp
Headlamp sports EMI, ESD and surge protection.
5 Series flashlights
Illuminate across variable distances with LED flashlights, penlights.
Line of Forklift Safety Lights
Prevent pedestrian/vehicle collisions with forklift safety lights and spotlights.
Powerfoil X3.0
Industrial ceiling fan includes optional LED attachment.
Clean Room Series of LED lighting
Illuminate cleanroom environments with LED lighting.
More LED
Related Topics
Dialight
Energy
LED
All topics
About the Author
Josh Bond, Senior EditorJosh Bond is Senior Editor for Modern, and was formerly Modern's lift truck columnist and associate editor. He has a degree in Journalism from Keene State College and has studied business management at Franklin Pierce University.
Latest products
Super Air Wipe dries, cools & cleans small diameters.
Momentum™ warehouse execution system (WES) by Honeywell Intelligrated is a feature-rich software platform built to address the escalating…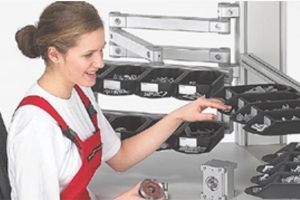 Customize workbench for optimized use.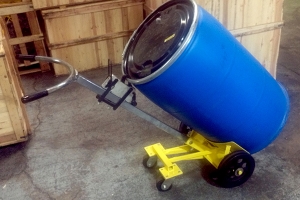 Handle rimmed drums with ergonomic hand truck.
Latest materials handling news