Modex 2018 expands into two halls, to hold record number of exhibitors, 28,000+ attendees
At 10 a.m. this morning, the Georgia World Congress Center welcomes more than 28,000 visitors to Modex 2018—the largest manufacturing and supply chain expo of the year. It's the biggest Modex yet, says George W. Prest, CEO of show sponsor MHI.

By
Sara Pearson Specter
·
April 9, 2018
At 10 a.m. this morning, the Georgia World Congress Center welcomes more than 28,000 visitors to Modex 2018—the largest manufacturing and supply chain expo of the year. It's the biggest Modex yet, says George W. Prest, CEO of show sponsor MHI.
"We've expanded into two halls—B and C—for the first time ever and again welcome the Georgia Logistics Summit as a co-located show," Prest explains. "This, our fourth Modex, gives attendees an opportunity to explore the solutions that will keep their supply chains moving forward throughout a total of 300,000 square feet. With more than 850 exhibitors, plus an expanded agenda of educational and networking offerings, attendees can maximize their time and easily connect with the information and tools they need to tackle today's challenging, always-on business environment."
As always, the Modex show floor is divided into different solutions centers—including two new ones this year—to help visitors navigate. They include:
Smart City Logistics & Connected Supply Chain (new): Housed in Hall C, this solutions center features the technologies that enable Industry 4.0 and Industrial Internet of Things (IIoT), including sensors, software, Cloud computing, driverless vehicles, robotics and automation, predictive analytics, artificial intelligence, omni-channel fulfillment, augmented reality wearable and mobile systems.
Transportation & Logistics (new): Located in Hall C, this solutions center showcases options for road, rail, sea and air freight transportation, as well as parcel delivery, security, autonomous vehicles, robotics, sensors, supply chain management software, third-party logistics and reverse logistics.
Manufacturing & Assembly: Split between Halls B and C, this solutions center includes automated assembly support, intelligent devices, robotics, ergonomic and safety equipment, workstations, light-rail and other assembly-assist equipment and systems for the manufacturing environment.
Fulfillment & Delivery: Located in Hall B, this center gathers solutions for traditional or e-commerce order fulfillment, order picking and packaging, third-party logistics, warehousing, distribution or transportation.
Information Technology (IT): Found at the entrance to Hall B, this solutions center highlights supply chain software solutions, RFID, auto-ID and data collection, transportation management systems, manufacturing execution systems, logistics execution systems, enterprise resource planning and order management systems.
The Knowledge Center: With theaters in Hall B and C, this solutions center offers resources in on-show floor theaters to educate and build awareness of what the materials handling and logistics industry has to offer the supply chain as a whole.
Keynotes
Further, Modex will showcase four separate keynote presentations, all held in Hall B's Thomas Murphy Ballroom on Level 5:
Co-presented by MHI and the Georgia Logistics Summit, at 8:45 this morning, Juan Perez, chief information and engineering officer of UPS discusses "Anticipating Tomorrow's Supply Chain Challenges—Today." Immediately after, at 9:30 a.m., Georgia Governor Nathan Deal will officially open the show, while detailing how his state has tackled supply chain and transportation infrastructure improvements.
Tomorrow at 8:45 a.m., "Harnessing Our Digital Future" will be presented by Andrew McAfee, co-founder and co-director of the Initiative on the Digital Economy and a principal research scientist at the MIT Sloan School of Management.
On Wednesday at 8:45 a.m., MHI will release its 2018 "Annual Industry Report," developed in partnership with Deloitte Consulting LLP. A panel of industry insiders will discuss the report's key findings, moderated by MHI CEO Prest and Scott Sopher, a principal in Deloitte's supply chain practice.
Also on Wednesday, at 1:00 p.m., Mike Rowe, founder of mikeroweWORKS, will explain "Why Dirty Jobs Matter."
Get the most out of the show
In addition to the keynotes, the Modex Education Conference features more than 100 Show Floor Seminars in enclosed theaters on the far right-hand side of Hall B, and 30-plus presentations in open-air theaters in Hall C. The co-located Georgia Logistics Summit (separate fee and registration required) offers presentations and breakout sessions on the latest industry trends today through Wednesday. Also on Wednesday only, the Crane Manufacturers Association of America (CMAA) will host its Overhead Crane Safety Conference from 7:30 a.m. to 4:30 p.m. (separate fee and registration required). Student Days returns on Wednesday and Thursday, bringing the workforce of the future (and their instructors) to the show floor and on tours of area facilities.
Modex attendees wishing to get a closer look at the inner workings of Atlanta-area supply chain facilities can do so by joining tours of four such locations. Advance registration of $50 per tour can be accessed at modexshow.com. The tours depart the Georgia World Congress Center at 7 a.m. and return by 11 a.m. Included are Telaid Industries and Kroger distribution center on Tuesday, the KIA Motors assembly plant on Wednesday, and Hartsfield-Jackson Air Cargo facility on Thursday.
Keeping its focus on workforce, MHI is again presenting the "Women in the Supply Chain Industry Forum" in partnership with the Material Handling Equipment Distributors Association (MHEDA). The forum will be held today from noon to 4:30 p.m. in Room B402. Paid pre-registration is required via modexshow.com/attendees/networking.aspx or at Attendee Registration.
For attendees seeking more networking opportunities, MHI's Young Professionals Network (YPN) will host a free meet-and-greet reception in Room B405 on Tuesday evening—no advance registration required. Running from 5:00 to 6:30 p.m., the event is open to both current and prospective members of the group as a chance to network and connect with other young professionals in the industry.
What does require registration and pre-purchased tickets ($50 each) is MHI's Industry Night. Held on Wednesday, from 4:30 to 7:00 p.m. in Hall B's Thomas Murphy Ballroom on Level 5, the event includes networking and a chance to win a "Trip of a Lifetime" luxury package for four valued at $30,000 (see official rules at modexshow.com/attendees/rules.aspx). Other highlights include the presentation of the Innovation Awards and the MHI Young Professionals Awards. Comedian Jim Gaffigan will entertain. Tickets can be either purchased or picked up by presenting an email confirmation of online purchase on modexshow.com at Attendee Registration between 8 a.m. and 5 p.m. A portion of the ticket sales will be donated to the Material Handling Education Foundation, Inc. (MHEFI).

More details about all Modex-related events can be found in the official mobile app. It offers an interactive map of exhibit halls, exhibitor search, educational sessions search and information about the four keynotes. Attendees can also access their personalized agenda. Available free at both Android and Apple app stores, downloading information can be found at modexshow.com/app.
Modex 2018 is scheduled to be held April 9-12 at the Georgia World Congress Center in Atlanta. The tradeshow will showcase the latest manufacturing, distribution and supply chain solutions in the materials handling and logistics industry. Modern's complete coverage of the show.
Related Topics
MHI
MODEX
All topics
About the Author
Sara Pearson SpecterSara Pearson Specter has written articles and supplements for Modern Materials Handling and Material Handling Product News as an Editor at Large since 2001. Specter has worked in the fields of graphic design, advertising, marketing, and public relations for nearly 20 years, with a special emphasis on helping business-to-business industrial and manufacturing companies. She owns her own marketing communications firm,
Sara Specter, Marketing Mercenary LLC
. Clients include companies in a diverse range of fields, including materials handing equipment, systems and packaging, professional and financial services, regional economic development and higher education. Specter graduated from Centre College in Danville, Ky. with a bachelor's degree in French and history. She lives in Oregon's Willamette Valley where she and her husband are in the process of establishing a
vineyard and winery
.
Latest products
Super Air Wipe dries, cools & cleans small diameters.
Momentum™ warehouse execution system (WES) by Honeywell Intelligrated is a feature-rich software platform built to address the escalating…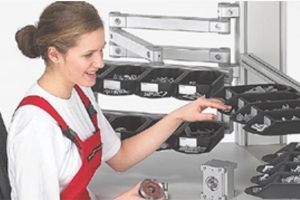 Customize workbench for optimized use.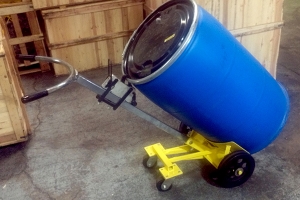 Handle rimmed drums with ergonomic hand truck.
Latest materials handling news