Modernized distributed controls boost speed, efficiency and safety
Phased upgrade was completed days early and did not halt production for technology company.

By
Josh Bond, Senior Editor
·
April 12, 2018
Dow Corning, a global leader in silicon-based technology, sought to modernize the distributed control systems at its Carrollton, Ky., plant. Aiming to complete the upgrade in one week, Dow Corning and its controls provider finished two days early, offsetting project costs with additional production and revenue.
"We worked closely to develop a strong action plan that enabled us to modernize our distributed control system and take better advantage of new, value-focused technology solutions," says Chris Wolfschlag, project manager at Dow Corning. "This was a difficult project because we only had one week to perform the upgrade, but by working as a team, we were able to complete the project much sooner than anticipated. Bringing the system back online faster gave us two full days of extra production, which positively impacted our bottom-line performance."
Working in tandem, experts from its controls supplier (Schneider Electric,) helped upgrade the existing control system in phases. The team retained much of the initial infrastructure, including its human-machine interface, field wiring and documentation, which prevented any need for a complete system shutdown or any halt to production. This plug-and-play approach helped Dow Corning reduce its capital expenditure by approximately 50%, as well as complete the upgrade in less than a week.
The new controls consist of an IoT-enabled, open and interoperable system architecture and platform for connected products, edge control and apps, analytics and services. The system's architecture enables scalable design and operation of connected systems with best-in-class cyber security built in at every layer.
"Modernizing helps us improve how we control the efficiency, reliability and safety of our operations, in real time," Wolfschlag says. "Because it gives us better visibility into the financial and business performance of our operations, we are better able to evaluate how our decisions and actions impact our overall operational profitability."
The upgrade was intended to speed project execution and reduce engineering, operating and inventory costs. Additionally, through the project management, cabinet design, factory acceptance testing, start-up and additional modernization services provided, Dow Corning expects productivity to increase as well.
What's Related in Controls
iDock™ Controls for Loading Docks
The industry's most reliable loading dock levelers and vehicle restraints from Systems' brands can be equipped with iDock Controls. These technologically advanced controls provide an efficient interface with ease of use.
Flex EX2 wireless control
Control overhead cranes with wireless control transmitters, receivers.
Hitachi announces merger of L.A. Supply Co. and Hitachi Industrial Equipment Marking Solutions
The two companies are already part of Hitachi America's Marking and Coding Group, and will leverage each other's strengths to promote products and services.
Other Voices: Time to simplify conveyor control and automation productivity
Despite inherent complexities, optimizing conveyors' overall equipment effectiveness (OEE) should not be difficult.
Modernized distributed controls boost speed, efficiency and safety
Phased upgrade was completed days early and did not halt production for technology company.
More Controls
Related Topics
Controls
Internet of Things
Schneider Electric
All topics
About the Author
Josh Bond, Senior EditorJosh Bond is Senior Editor for Modern, and was formerly Modern's lift truck columnist and associate editor. He has a degree in Journalism from Keene State College and has studied business management at Franklin Pierce University.
Latest products
Super Air Wipe dries, cools & cleans small diameters.
Momentum™ warehouse execution system (WES) by Honeywell Intelligrated is a feature-rich software platform built to address the escalating…
Ideal for general warehousing, distribution, general manufacturing, retail, food storage and cold storage applications.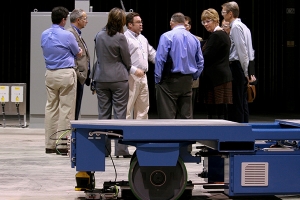 Wingspan Technology Increases Capacity by 200%
Latest materials handling news