Minneapolis-based MDI receives top certification for medical device quality management
Certification and space will allow the nonprofit to offer medical assembly, kitting, and packaging services.

By
MMH Staff
·
August 20, 2018
The nonprofit manufacturing company MDI announced today that it has received ISO 13485:2016 certification, which will allow the company to offer assembly, kitting, and packaging services to medical device companies. Headquartered in Minneapolis with additional locations in Hibbing, Grand Rapids, and Cohasset, nearly 50 percent of MDI's employees are people with disabilities.
Peter McDermott, president and CEO of MDI:
"We believe we are the only nonprofit in the state that has this certification. This allows us to extend our high-quality labor and services to medical device manufacturers, ultimately providing more jobs for people with disabilities."
As a nonprofit organization, MDI's mission is to serve people with disabilities by offering inclusive employment opportunities and services. With the recent certification and build-out of a 2,000 square feet 'white room' space, the organization is looking to attract more opportunities throughout the United States and from the nearly 700 medical device companies that have headquarters or major operations in Minnesota.
Nathan Trout, medical sales account manager at MDI:
"Achieving this certification is imperative to building strong, longstanding partnerships with medical device companies. We are now uniquely positioned to provide services to a whole new sector of business."
ISO 13485:2016 is a global certification for a quality management system for medical devices and related services that consistently meet customer and applicable regulatory requirements.
"High-quality, skilled packaging and assembly options for medical devices are in high demand," said MDI advisory board member Jim Vogl, who also serves as vice president and general manager of Patient Services & Monitoring at Medtronic. "Adding another option that is also a nonprofit with strong values is beneficial for medical device companies and everyone that MDI serves."
For more information, visit www.mdi.org/medical-assembly.
See More Products From MDI:
Regular-Slotted Container is Versatile for all Material Handling Needs
MDI's regular-slotted container is an excellent solution for distribution, material-handling, manufacturing and retail packaging.
---
Plastic Warehouse Tray Solution for Distribution Centers
Warehouse and distribution centers (DC) demand reliable systems that minimize operating costs and maximize picking productivity.
---
Manufacturing Tote Improves Material Handling Efficiencies
MDI's plastic totes are a great addition for any manufacturers looking to reduce costs, increase inventory efficiency, and meet sustainability goals.
---
Related Topics
MDI
Storage
All topics
Latest products
Design mezzanines with software.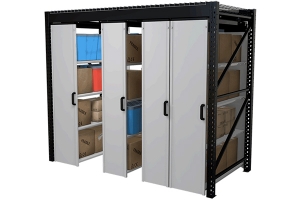 Integrate small parts storage with pallet racking.
Drop carton flow system into existing racks, shelves.
Store pipe, tubes, lumber on cantilever rack.
Latest materials handling news