Measuring the realities one step at a time
Find out what is happening this month in Modern Materials Handling

By
Mike Levans
·
April 15, 2018
What I love most about trade show events like Modex is not just soaking in the market camaraderie, but the hours you can spend connecting with readers and suppliers, kicking the tires of new ideas and innovations. It's there that you can lose yourself in what's trending and not be afraid of asking the question: OK, where do we stand with all this new innovation?
And while I've always pushed hard for the adoption of new technology and process to streamline and improve operations, I've done so with the heart of a skeptic. It's one thing to sit in a conference and jot down theory and new acronyms, but it's another to get the straight story on how the much-bandied terms will actually be applied in our operations—if at all.
Indeed, part of our job at Modern is to put context around the greater possibilities a new concept or technology can bring to the market, yet keep our feet firmly on the ground by measuring the realities one step at a time.
For example, more than 15 years ago, the term RFID could be found in the majority of content we published, pushing the idea that it would revolutionize inventory and tracking, and improve freight visibility around the world. And while it didn't evolve into the omnipotent force many projected, the fundamental enabling technology found in RFID did, in fact, find its place in the greater spectrum—albeit in smaller, more controlled loops in internal supply chain management operations.
This month in Modern we check in on a concept that has been moving from theory to conference chatter to reality. Editor at large Roberto Michel checks in on the progress being made by the Internet of Things (IoT)—the idea of connecting sensors, controllers or equipment to the Internet or private Clouds to aggregate data for analysis and improved real-time supply chain visibility.
"Today, it's more vision than reality for most operations," says Michel. "Even the IoT cases that exist, like lift truck telematics, or temperature monitoring of cold storage, are more like point solutions, rather than the fully 'connected warehouse' vision. However, I think we'll realize that bigger vision pretty quickly because of the uptime and cycle time demands being felt in large, automated warehouses."
Michel offers us the current reality of IoT's evolution by tracking the vendors creating IoT solutions, including start-ups and the major warehouse automation and materials handling systems suppliers who also provide WCS and WES—all critical pieces in the IoT puzzle.
He then brings us inside Cisco Systems' 25,000-square-foot "innovation lab" housed in a warehouse near Houston. As Michel reports, Cisco is live-testing IoT technology in an actual warehouse setting.
"Cisco has used this lab over the past 18 months to test 15 technologies," says Michel. "Four of which—energy management, facial recognition, augmented reality and pallet dimensioning—have already graduated to pilot programs within Cisco's network."
This may be one of the most progressive IoT testing operations in the United States, and one we'll keep an eye on as this concept moves closer to finding its place in our operations.
What's Related in MODEX
Wire•Rac Label Holder
A Solution For Labeling Wire Shelving
Backsaver lift tables
Backsaver® Lift Tables for any application
Year in Review: Top materials handling news in 2018
In a healthy but fiercely competitive landscape, technology continues to play a pivotal role in the ongoing digital transformation of supply chains big and small.
MHI View
Your One-Stop Shop for Bite-Sized Supply Chain Education
The Industry That Makes Supply Chains Work
MHI is an international trade association that has represented the industry since 1945.
More MODEX
Related Topics
MODEX
This Month in Modern
All topics
Latest products
Super Air Wipe dries, cools & cleans small diameters.
Momentum™ warehouse execution system (WES) by Honeywell Intelligrated is a feature-rich software platform built to address the escalating…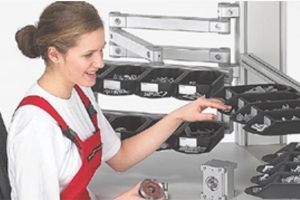 Customize workbench for optimized use.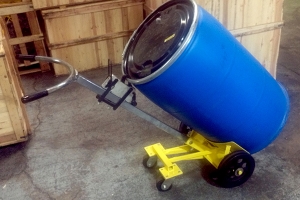 Handle rimmed drums with ergonomic hand truck.
Latest materials handling news