Lodge Manufacturing forges e-commerce capabilities to bolster brand, customer experience
"The benefit is the ability to have product in more locations visible to more people. We believe when people know more about our products, they will be more likely to buy."

By
Josh Bond, Senior Editor
·
April 16, 2018
Although the D2C transition is a steep one for manufacturers, the opportunity to work more intimately with retail partners and harmonize their respective Websites offers plenty of perks for the manufacturer. Lodge Manufacturing Co., a maker of cast iron cookware and the subject of Modern's November 2017 cover story, continues to be primarily a wholesaler, but it recently began selling from its Website and from those of its retail customers. On these sites, consumers have access to more information about the company's 600 products than they could get in a store display that might only house 10 to 20 varieties of skillets, griddles or cake pans.
"The main purpose is not to do e-commerce, but to provide a place where customers can go to get knowledge about Lodge products, including how to clean them, recipes or how to make the best steak of your life," says Sam Touchstone, senior vice president of finance and administration for Lodge Manufacturing Co. "The benefit is the ability to have product in more locations visible to more people. We believe when people know more about our products, they will be more likely to buy."
Of course, with e-commerce, more sales means more shipments. Instead of cases containing three to six items that will later be opened and presented on a shelf, Lodge has adapted its packaging and shipping processes to accommodate D2C orders—whether they're shipped from Lodge, a distribution center, or a store.
"There are two approaches to the packaging challenge," Touchstone says. "On one hand, we will package based on each order. A skillet and a leather handle can go into one box, but it takes a lot of time. So the second approach is to work with our foundry, where we set up packaging departments that send to a distribution center. We're going through the process now of determining what it would take to package every item in its own box."
Naturally, the shifted burden of fulfillment significantly impacts the cost structure when the customer's margin no longer has to reflect transportation costs and carrying costs.
"They understand it costs you money to do something," Touchstone says, "and they save money on their side."
However, he advises manufacturers to be aware of some less obvious costs, like EDI (electronic data interchange) transactions.
"Any big retailer expects to receive an order, acknowledgment and invoices electronically," Touchstone explains. "All these documents going back and forth all cost money. Five or six document exchanges might cost $1.20, which is fine for a big wholesale order, but when it's one item you better make sure you have taken that cost into account if you're going to drop ship to the consumer. It doesn't matter if you sell at the same wholesale price, because it's not the same pricing structure."
All the same, Touchstone sees the ability to drop ship as not only a revenue source, but as a key part of Lodge's future growth. What comes next is anyone's guess, but the company's efforts to build a solid foundation for D2C fulfillment have already proved invaluable.
"The most important thing to stress to any manufacturer who wants to get into drop shipping is to bring in someone who knows what they're doing, even if it's a consultant," Touchstone says. "The cost to set it up right is well spent."
Check out the Feature Story "Made From Scratch: Manufacturers set sights on direct-to-consumer (D2C) fulfillment"
What's Related in E-commerce
The Impact of e-Commerce on an Organization's Fulfillment Operations
Wednesday, February 6, 2019 | 2pm ET
JLL report focuses on urban infill warehouse and distribution space to fill last-mile gap
The intersection of e-commerce activity and last-mile logistics with growing consumer expectations for same-day delivery has led to increased need for e-commerce distribution operations located closer to consumers in populous urban areas.
TECSYS acquires OrderDynamics
Deal will expand omni-channel distribution capabilities for e-commerce companies.
Gap Inc.: Taking the touches out of fulfillment
Gap Inc.'s Gallatin facility was designed to rapidly fill e-commerce orders while minimizing handling.
Accenture acquires Intrigo Systems
Acquisition includes deep experience and assets for faster, easier implementations of SAP Integrated Business Planning and SAP Ariba Supply Chain Collaboration.
More E-commerce
Related Topics
E-commerce
Fulfillment
All topics
About the Author
Josh Bond, Senior EditorJosh Bond is Senior Editor for Modern, and was formerly Modern's lift truck columnist and associate editor. He has a degree in Journalism from Keene State College and has studied business management at Franklin Pierce University.
Latest products
Super Air Wipe dries, cools & cleans small diameters.
Momentum™ warehouse execution system (WES) by Honeywell Intelligrated is a feature-rich software platform built to address the escalating…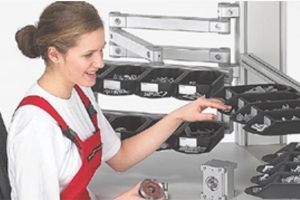 Customize workbench for optimized use.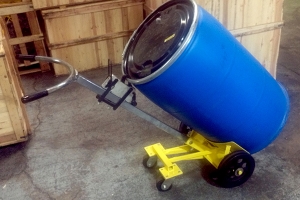 Handle rimmed drums with ergonomic hand truck.
Latest materials handling news