International Forklift of the Year Award winners announced
Jungheinrich claims two awards, and ties with a modular tugger startup for Warehouse Truck of the Year.

By
MMH Staff
·
April 25, 2018
After six months of trial and selection, the International Forklift of the Year (IFOY) Awards have announced the winners from among 12 IFOY-nominated devices, components and solutions.
Over the course of one week in the beginning of February, the testers lifted, drove, measured, stored and discussed in the jury sessions. More than 100 guests from 18 nations, including various test teams as well as more than 30 jurors and accredited consultants from industry, logistics services, media and science, traveled to Hanover to follow the tests live.
"It was the toughest and most narrow decision ever made at the IFOY Award," said Anita Würmser, chairwoman of the IFOY jury at the celebration during the CeMAT opening ceremony. "The IFOY audit has shown that all finalists are far ahead of their competitors in terms of quality, innovation and practicability, not only on paper yet also in practice."
Witron Logistik + Informatik GmbH, Parkstein, Germany, triumphed in the premium class of "Integrated Warehouse Solutions" for its Migros Distribution Center Suhr AG in Switzerland. According to an IFOY release, Witron is the first system integrator worldwide to have succeeded in developing an integrated omnichannel solution and merging the volatile small volume order picking of migrolino AG with the Migros branch business.
The new RX 20 from Hamburg-based Still GmbH was voted best truck of the year. The powerful and maneauvrable 1.6-ton all-rounder for indoor and outdoor use impressed the jury with its innovative overall package and outstanding handling performance. The jury noted it is also the only truck type that can drive with either circuit A or B batteries and use both lead-acid and lithium-ion batteries.
This year, two vehicles can call themselves "Warehouse Truck of the Year". For the first time in IFOY history, two finalists crossed the finish line: The ECE 225 from Jungheinrich AG and the Wegard Trail from the Hamburg startup Wegard GmbH. The further developed ECE 225 with easyPILOT Follow is a semi-automatic solution by which the order picker automatically follows his operator. A control unit in the pocket or on the belt automatically connects the remote control to the 2.5-ton order picker via radio.
The Wegard Trail is a modular tugger train with autonomous and electronically steered axles. In the IFOY Test it was impressive due to its high directional stability, and it even allows driving maneuvers such as lateral parking or reversing. In addition, the Wegard Trail can be combined from different trailer types and does not require a special tractor.
Jungheinrich won a second IFOY Award in the "Special of the Year" category with the cross-technology SLH300 battery charger for industrial trucks. According to the jury, the plug and play solution for charging conventional lead-acid and more efficient lithium-ion batteries offers advantages above all for mixed fleets or the switch from lead-acid to lithium-ion technology.
In the crane category, the MK 140 tower crane from Liebherr-Werk Biberach GmbH was honoured with an IFOY Award. The 5-axle model is only 15.97 meters long and the first crane to combine the trolley mode for fast and fully electric handling and the luffing mode for special applications using the VarioJib. It can carry loads of up to 1,900 kilograms, lift heights of up to 94 metres and a projection of up to 65 metres, which could previously only be achieved with larger or rig-intensive equipment.
The IFOY Award has established itself as an indicator of economic efficiency and innovation. Nominated devices and solutions are subjected to individually tailored driving or function tests, including the IFOY test protocol comprising around 80 criteria and the scientific IFOY Innovation Check. In addition, jurors and their advisory teams assess the finalists personally before voting. Nominees are compared not only with each other, but with their competing devices on the market.
The IFOY Award, which is sponsored by the German Federal Ministry of Economics and Energy, is presented by the Association for Materials Handling and Intralogistics within the VDMA. IFOY partners are CeMAT, the world's leading trade fair for intralogistics, Hanover, and Messe München with its trade fairs transport logistic, bauma and IFAT. Pallet partner of the IFOY Award is Chep, a world market leader in the pooling of pallets and containers. The technology partner is battery charging specialist Fronius.
IFOY test reports and innovation checks of all finalists are available for free use at: http://www.ifoy.org/en/nominations-2018
IFOY AWARD: Winners 2018 at a glance
migrolino - maximum flexibility for omnichannel logistics, Witron
RX 20, Still (electric)
ECE 225 with easyPILOT Follow, Jungheinrich (electric)
Wegard Trail, Wegard
MK 140, Liebherr
Cross-technology battery charging system SLH300, Jungheinrich
What's Related in Forklifts
IFOY Award 2019 finalists announced
Seventh annual awards include new startup category.
Toyota to formally integrate companies
Toyota Industrial Equipment Manufacturing (TIEM) and Toyota Material Handling, U.S.A. (TMHU), to become Toyota Material Handling.
Freezer-Rated Narrow Aisle Reach AGV
Operate narrow-aisle reach AGV in freezers.
Raymond supports more than 150 nonprofit and educational organizations in 2018
Raymond and its employees 'recognize that nonprofit support sustains communities.'
Balyo announces 10-year renewal of contract with Hyster-Yale Group
Announcement coincides with market launch in Europe of the Hyster-Yale Driven by Balyo™ robotic lift trucks.
More Forklifts
Related Topics
Battery Charger
Forklifts
Jungheinrich
Lift Trucks
Still
Witron
All topics
Latest products
Super Air Wipe dries, cools & cleans small diameters.
Momentum™ warehouse execution system (WES) by Honeywell Intelligrated is a feature-rich software platform built to address the escalating…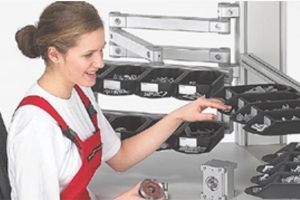 Customize workbench for optimized use.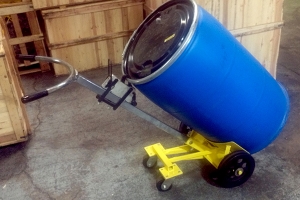 Handle rimmed drums with ergonomic hand truck.
Latest materials handling news