IAM Robotics raises $20 million
Logistics industry turns to autonomous robotic systems as companies face global labor shortages and changes in consumer habits

By
MMH Staff
·
November 15, 2018
IAM Robotics raises $20 million from KCK Ltd. to expand deployment of its autonomous mobile picking robotic solutions. IAM is responding to the growing need for flexible automation systems in logistics environments. The investment will be used to accelerate robot production and to build a sales, marketing and delivery organization that works closely with leading distributors to transform the supply chain.
"Distributors and retailers need more workers to meet the demands of e-commerce. In the U.S. alone, consumers spend 40 billion hours picking items from store shelves," said Joel Reed, IAM Robotics CEO & President. "As we buy more items online, that work moves to the warehouse. Currently, there are not enough people in the workforce to do this for us. The answer is to give organizations a tool that increases existing worker productivity, fosters greater job satisfaction, and maintains operational flexibility. This not only helps them to remain sustainable in a rapidly changing landscape, it makes them more competitive."
Reed added: "We are working with leading retailers and distributors to build more efficient systems around our robots. KCK shares this vision and maintains a long-term commitment in their investments, which allows us to focus on execution without sacrificing our vision."
IAM Robotics was founded by Tom Galluzzo and Vladimir Altman, robotics engineers who worked at Carnegie Mellon University's National Robotics Engineering Center. Having worked on advanced projects in computer vision, embedded systems and autonomous manipulation, they were drawn into the industry by a customer who asked if they could develop a robot that picked items from warehouse shelving. Like many companies, this customer faced high labor turnover and hiring issues. The result was the first autonomous mobile manipulation robot worker that performed fundamental picking tasks in human environments.
"We're expanding what is possible to accomplish with autonomous robots," said Galluzzo, CTO. "There is a great deal of buzz around autonomous cars, but we see shorter term opportunities to put autonomous robots to work performing tasks that will have a huge impact on global logistics operations. This funding will help us to recruit the talent needed to make autonomous robots an immediate reality."
"IAM Robotics has a stellar team and the company is strategically located in a region with a strong industrial history that has also been on the cutting edge of robotics development," said Dr. Nety Krishna, KCK's Head of Industrials and EmTech. "IAM's core technology can be leveraged to build a suite of products that can serve different market segments. We are looking forward to working together to solve some challenging problems in the logistics industry, thereby unlocking tremendous value for our customers."
KCK is a family office which invests in a diverse set of industrial, scientific, financial services and medical technologies. Often partnering with experienced management teams, focused on niche markets, the firm invests at all stages of startups from early stage to growth rounds. KCK's investment teams are located in New York and the San Francisco Bay Area.
IAM will use this new investment to hire in nearly every area of its business, including software engineering, high volume manufacturing, mechanical engineering, product management, sales, marketing and field support.
What's Related in Robotics
A3 announces call for 2019 Automate Launch Pad Startup Competition
Entrepreneurs vie for $10,000 cash award, spotlight at the April 8-11 Automate show and conference.
STOREPICK warehouse solution
Store-friendly deliveries and a redundant design.
Year in Review: Top materials handling news in 2018
In a healthy but fiercely competitive landscape, technology continues to play a pivotal role in the ongoing digital transformation of supply chains big and small.
Bill Bastian Sr. to retire after more than 63 years in the material handling industry
Bastian took over operations of what was then called Stark Company before purchasing the business in 1962.
Balyo announces 10-year renewal of contract with Hyster-Yale Group
Announcement coincides with market launch in Europe of the Hyster-Yale Driven by Balyo™ robotic lift trucks.
More Robotics
Related Topics
IAM Robotics
KCK
Robotics
All topics
Latest products
Super Air Wipe dries, cools & cleans small diameters.
Momentum™ warehouse execution system (WES) by Honeywell Intelligrated is a feature-rich software platform built to address the escalating…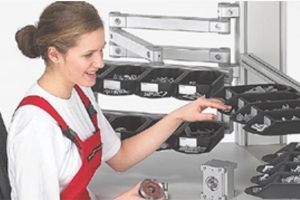 Customize workbench for optimized use.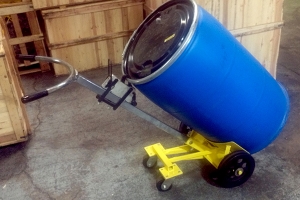 Handle rimmed drums with ergonomic hand truck.
Latest materials handling news