Hannibal and Automha deliver deep lane storage solution for KTN
This solution increased the end-user's productivity and efficiency with 95% space utilization and showcases the results of the long-standing alliance between Hannibal and Automha

By
Roberto Michel
·
April 11, 2018
Hannibal Industries (Booth B4647) and Automha announced the successful installation of a semi-automated, deep-lane storage solution for KTN in Houston.
This solution increased the end-user's productivity and efficiency with 95% space utilization and showcases the results of the long-standing alliance between Hannibal and Automha, Blanton Bartlett, Hannibal's president, explained a Wednesday booth visit.
The solution included Hannibal Industries' TubeRack, structural rack and Automha's Semi-Automated Pallet Runner product. The final storage solution was a deep lane Pallet Runner system that was 14 pallets deep by four store levels high.
With each pallet being double stacked, the solution is able to store 28 pallets in 1-14 deep lane. With loads weighing 3,200 pounds, each lane stores 44,800 pounds. The solution allowed KTN to reach its goal of shipping 28 pallets per truckload.
The system makes good use of vertical space and allows for quick throughput, said Steve Dale, sales manager for Automha Americas Automation Corp., enabling an entire lane of 28 pallets to be loaded into a truck in approximately a half hour.
"We can build this type of deep-lane storage solution for anyone through this alliance," said Bartlett. "These solutions also can be added on to. It's modular, so these systems can adapt as needs change."
---
Modex 2018 is scheduled to be held April 9-12 at the Georgia World Congress Center in Atlanta. The tradeshow will showcase the latest manufacturing, distribution and supply chain solutions in the materials handling and logistics industry. Modern's complete coverage of the show.

What's Related in Storage
Warehouse System Report: A.B. Beverage Racks Up Productivity
A.B. Beverage improved throughput and eliminated a third shift through better warehouse design and a new rack system.
A.B. Beverage: Putting rack, WMS and data collection to work
Conventional warehousing tools plus bar code scanning and voice have streamlined a beer distribution warehouse.
New warehouse gives winemaker a "Smooth Finish"
To support growth and efficiency in an area prone to earthquakes, new rack protects priceless vintages and ensures productive operations.
60 Seconds with John Krummell, Rack Manufacturers Institute (RMI), CEO of Advance Storage Products
Modern editor's sat down with John Krummell to discuss Racking technology solutions
Hannibal and Automha deliver deep lane storage solution for KTN
This solution increased the end-user's productivity and efficiency with 95% space utilization and showcases the results of the long-standing alliance between Hannibal and Automha
More Storage
Related Topics
Automation
Automha
Hannibal Industries
Storage
All topics
About the Author
Roberto MichelRoberto Michel, an editor at large for Modern Materials Handling (MMH), has covered manufacturing and supply chain management trends since 1986, mainly as a former staff editor and former contributor at Manufacturing Business Technology. He has been a contributor to MMH since 2004. He has worked on numerous show dailies, including at ProMat, the North American Material Handling Logistics show, and National Manufacturing Week. He can be reached at
[email protected]
Latest products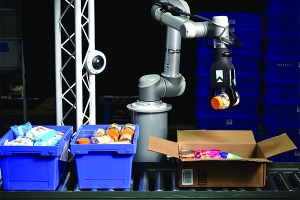 RightPick.AI integrated, vision-guided machine learning software, Right Hand Robotics RightPick Software for Automated Storage, Robotics…
New automated vertical storage controller option debuts. Intelligent warehouse storage software controller, Warehouse inventory vertical…
Order fulfillment storage system combines gantry robot, shuttles
Track activity with app to identify, reduce wasteful processes and tasks. Newcastle MotionMeter app for time studies in the warehouse.…
Latest materials handling news