Hannibal and Automha deliver deep lane storage solution for KTN
This solution increased the end-user's productivity and efficiency with 95% space utilization and showcases the results of the long-standing alliance between Hannibal and Automha

By
Roberto Michel
·
April 11, 2018
Hannibal Industries (Booth B4647) and Automha announced the successful installation of a semi-automated, deep-lane storage solution for KTN in Houston.
This solution increased the end-user's productivity and efficiency with 95% space utilization and showcases the results of the long-standing alliance between Hannibal and Automha, Blanton Bartlett, Hannibal's president, explained a Wednesday booth visit.
The solution included Hannibal Industries' TubeRack, structural rack and Automha's Semi-Automated Pallet Runner product. The final storage solution was a deep lane Pallet Runner system that was 14 pallets deep by four store levels high.
With each pallet being double stacked, the solution is able to store 28 pallets in 1-14 deep lane. With loads weighing 3,200 pounds, each lane stores 44,800 pounds. The solution allowed KTN to reach its goal of shipping 28 pallets per truckload.
The system makes good use of vertical space and allows for quick throughput, said Steve Dale, sales manager for Automha Americas Automation Corp., enabling an entire lane of 28 pallets to be loaded into a truck in approximately a half hour.
"We can build this type of deep-lane storage solution for anyone through this alliance," said Bartlett. "These solutions also can be added on to. It's modular, so these systems can adapt as needs change."
---
Modex 2018 is scheduled to be held April 9-12 at the Georgia World Congress Center in Atlanta. The tradeshow will showcase the latest manufacturing, distribution and supply chain solutions in the materials handling and logistics industry. Modern's complete coverage of the show.

What's Related in Storage
Conductive Bins
Storage bins protect electrical components.
Other Voices: Understanding your options for bulk location warehouse signs
Important areas of consideration include sign material, location and installation.
Flexi Shuttle
Adaptable shuttle accommodates flexible load positioning within racking.
Mustang single-mast, mini-load ASRS
Mini-load AS/RS compensates for mast swing at extended heights.
White horizontal carousel system
Save 60% of floor space with horizontal carousels.
More Storage
Related Topics
Automation
Automha
Hannibal Industries
Storage
All topics
About the Author
Roberto MichelRoberto Michel, an editor at large for Modern Materials Handling (MMH), has covered manufacturing and supply chain management trends since 1996, mainly as a former staff editor and former contributor at Manufacturing Business Technology. He has been a contributor to MMH since 2004. He has worked on numerous show dailies, including at ProMat, the North American Material Handling Logistics show, and National Manufacturing Week. He can be reached at
[email protected]
Latest products
Super Air Wipe dries, cools & cleans small diameters.
Momentum™ warehouse execution system (WES) by Honeywell Intelligrated is a feature-rich software platform built to address the escalating…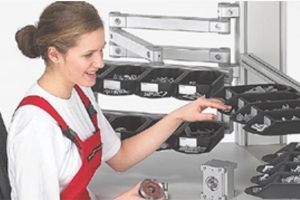 Customize workbench for optimized use.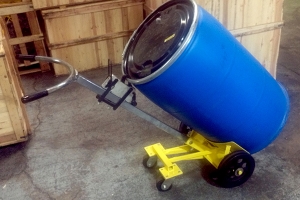 Handle rimmed drums with ergonomic hand truck.
Latest materials handling news