Fetch Robotics introduces two mobile robot solutions
Fetch Robotics (Booth B4835) announced it has expanded its VirtualConveyor family of autonomous mobile robots (AMRs) with the addition of CartConnect and RollerTop robots.

By
Roberto Michel
·
April 10, 2018
Fetch Robotics (Booth B4835) announced it has expanded its VirtualConveyor family of autonomous mobile robots (AMRs) with the addition of CartConnect and RollerTop robots.
CartConnect solutions allow the AMRs to pick up, transport and drop off delivery warehouse carts to any warehouse or manufacturing location. This lets human pickers stay in their pick areas, and lets the robots do the transport to locations such a pack/ship stations, explained Carl Showalter, Fetch COO, at a booth visit.
The RollerTop robots have integrated active conveyor modules on the top of the units, which allows them to dependably hand off or receive material from fixed conveyance. With the simple integration of FetchLink controllers with facility conveyor control systems, customers can quickly deploy AMR-to-conveyor workflows that require no human interaction.
Both of these solutions follow Fetch's philosophy of robots that can quickly integrate with and enhance existing automation or human workflows. "We want to augment and enhance with our automation, not rip and replace," said Showalter.
CartConnect and RollerTop are managed through FetchCore, the company's Cloud robotics platform. FetchCore is unified Cloud-based software for deploying, operating, monitoring and optimizing Fetch Robotics' AMRs.
---

Modex 2018 is scheduled to be held April 9-12 at the Georgia World Congress Center in Atlanta. The tradeshow will showcase the latest manufacturing, distribution and supply chain solutions in the materials handling and logistics industry. Modern's complete coverage of the show.
What's Related in Robotics
Vecna Robotics now a standalone company, separates from Vecna Technologies
With new business, leadership and investor, the provider of self-driving industrial vehicles plans enhanced production and innovation to meet growing demand.
North American robotics orders to non-automotive companies surge to new records
Automotive and non-automotive segments are closer than ever in the history of RIA's reports dating back to 1984.
Collaborative Robot Vacuum Tool (CRVT)
The Collaborative Robot Vacuum Tool (CRVT) from Bimba adds unparalleled flexibility to your collaborative robot. The standard CRVT is highly configurable, but simple and easy to install and operate.
Chuck Automatic Guided Vehicle
Starting with Chuck, a collaborative mobile robot, 6 River Systems is building fulfillment solutions that power the winning warehouses of tomorrow.
XPAK COBOXX Robotic Box Erector
The XPAK COBOXX utilizes XPAK's patented no-changeover design to build different box sizes, on-demand -- no changeover. Now available in the industry's first collaborative robotic case erecting cell.
More Robotics
Related Topics
Fetch Robotics
MODEX
Robotics
All topics
About the Author
Roberto MichelRoberto Michel, an editor at large for Modern Materials Handling (MMH), has covered manufacturing and supply chain management trends since 1996, mainly as a former staff editor and former contributor at Manufacturing Business Technology. He has been a contributor to MMH since 2004. He has worked on numerous show dailies, including at ProMat, the North American Material Handling Logistics show, and National Manufacturing Week. He can be reached at
[email protected]
Latest products
Super Air Wipe dries, cools & cleans small diameters.
Momentum™ warehouse execution system (WES) by Honeywell Intelligrated is a feature-rich software platform built to address the escalating…
Ideal for general warehousing, distribution, general manufacturing, retail, food storage and cold storage applications.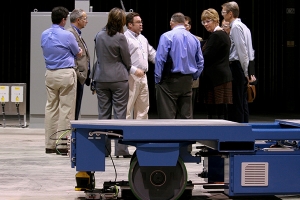 Wingspan Technology Increases Capacity by 200%
Latest materials handling news