Ergonomics knowledge drives action for Parker Hannifin
Enterprise-wide visibility and training—including employees outside traditional ergonomics roles—leads to 54% reduction in recordables.

By
Josh Bond, Senior Editor
·
December 7, 2018
Parker Hannifin is a Fortune 250 global leader in motion and control technologies, providing precision-engineered solutions for a variety of industrial and aerospace markets. With locations in 50 countries and more than 300 manufacturing sites globally, one of the company's primary goals is to achieve zero injuries across the organization. In an enterprise-wide effort, Parker team members recognized an opportunity to increase safety performance with better ergonomics.
"Implementing ergonomics improvements creates a better daily experience for our team members," says Martha Connell, director of environmental, health and safety at the company. "It helped our employees take ownership. They can easily identify and resolve issues that directly impact them."
Parker's first strategy was to provide ergonomics training to employees. Starting in 2012, Parker employees from around the world traveled to nearby facilities in Europe, Asia, Mexico and the United States to learn how to implement ergonomics initiatives correctly. Through classroom instruction and hands-on, shop-floor workshops, teams learned how to identify and prioritize jobs that posed a high risk of musculoskeletal disorders, quantify risks using software tools and make job improvements.
When the company fully transitioned to the new ergonomics system (Humantech) in 2017, the leadership team took advantage of the online training modules and required they be completed by employees outside of traditional ergonomics roles.
"The illustrations of awkward body postures and corresponding terms make people stop and think about the way they work," says European EHS manager Sara Moore.
In addition, the modular structure of the curriculum enabled Parker to provide role-specific training and create cross-functional ergonomics teams, which include members from safety and engineering to maintenance and shop-floor employees. When the company learned how to quantify risks, the results were sometimes surprising.
"A few times we thought the risk was in one area. It wasn't until we completed an assessment that we realized we were focusing on the wrong thing," says Moore. "The data showed us where we were and where we needed to go."
Since deploying the system, more than 700 employees have completed online training modules, not including those who attended in-person training. More than 1,400 users across 440 Parker locations have conducted more than 2,800 ergonomics assessments. Nearly 800 improvements have been implemented and another 4,000+ are in the works.
As outlined in its 2017 Sustainability Report, the company's Recordable Incident Rate has dropped by 54% since 2014, including a 22% reduction in fiscal year 2017.
What's Related in Ergonomics
Model 10HT-4W four-wheel hand truck
Handle rimmed drums with ergonomic hand truck.
ZLS Floor Height Lifts
Floor level lift tables can be loaded by a hand pallet truck.
PalletPal 360 spring level loader
Pallet leveler automatically raises and lowers loads
Backsaver lift tables
Backsaver® Lift Tables for any application
Packaging: Combi rolls out demo trailer
For the past 5 years Combi has been supporting its network of distributors by traveling across the United States and Canada providing live demonstrations of their affordable, custom end of line packaging equipment.
More Ergonomics
Related Topics
Ergonomics
Productivity Solution
All topics
About the Author
Josh Bond, Senior EditorJosh Bond is Senior Editor for Modern, and was formerly Modern's lift truck columnist and associate editor. He has a degree in Journalism from Keene State College and has studied business management at Franklin Pierce University.
Latest products
Super Air Wipe dries, cools & cleans small diameters.
Momentum™ warehouse execution system (WES) by Honeywell Intelligrated is a feature-rich software platform built to address the escalating…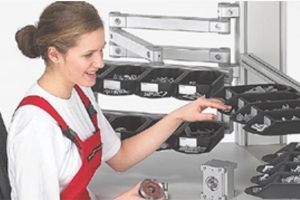 Customize workbench for optimized use.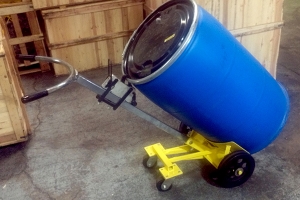 Handle rimmed drums with ergonomic hand truck.
Latest materials handling news