ELOKON's automatic safety system for VNA lift trucks debuts in U.S.
ELOKON (Booth B1762), a European leader in lift truck safety solutions, made its U.S. debut at Modex 2018.

By
MMH Staff
·
April 10, 2018
ELOKON (Booth B1762), a European leader in lift truck safety solutions, made its U.S. debut at Modex 2018. The company featured several industrial truck safety technologies, including ELOprotect, a mobile personnel protection system designed specifically for lift trucks operating in very narrow aisle (VNA) warehouses.
ELOprotect, which won a German Industry Award in 2017, is an automatic, self-activating collision-avoidance system designed to prevent pedestrian-vehicle and vehicle-vehicle accidents in VNA warehouses. Tested and approved by government safety agencies, the system uses intelligent laser scanning technology to monitor the distance between industrial trucks and surrounding objects.
If ELOprotect detects a person or object in an unsafe area around a VNA lift truck, it automatically slows the vehicle down, and can, if desired, bring the vehicle to a complete stop. At the same time, the system generates acoustic and visual warnings to both the pedestrian and the vehicle driver.
To avoid false alarms, ELOprotect activates automatically when a VNA lift truck enters an aisle, and deactivates automatically when the truck travels outside the aisle.
The latest version of ELOprotect incorporates advanced vehicle-to- vehicle anti-collision technology, enabling more than one lift truck to operate in the same aisle at the same time. The system also offers many options, including automatic end-of- aisle slowing and stopping, dynamic speed-sensing zones, a lift-height limiter, and a low-temperature package for cold storage applications.
What's Related in Safety
Ergonomic Casters
Prevent back pain with ergonomic casters
IFOY Award 2019 finalists announced
Seventh annual awards include new startup category.
ZLS Floor Height Lifts
Floor level lift tables can be loaded by a hand pallet truck.
Backsaver lift tables
Backsaver® Lift Tables for any application
Southworth Brouchure Shows Practical Applications of Ergonomics
This little booklet done in comic book style uses simple illustrations to take readers on a walk through a hypothetical, yet typical, plant where the plant manager, safety director, and controller point out a variety of problems that were solved through the practical application of ergonomics.
More Safety
Related Topics
ELOKON
Lift Trucks
MODEX
Safety
All topics
Latest products
Super Air Wipe dries, cools & cleans small diameters.
Momentum™ warehouse execution system (WES) by Honeywell Intelligrated is a feature-rich software platform built to address the escalating…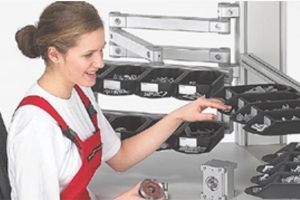 Customize workbench for optimized use.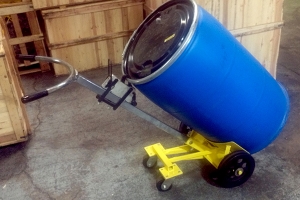 Handle rimmed drums with ergonomic hand truck.
Latest materials handling news