Corrugated pallets cut cost, waste
Industrial strength pallets handle up to 1,700 pounds, are fully recyclable and ship flat.

By
Sara Pearson Specter
·
April 12, 2018
Not every operation reuses wood pallets, meaning that certain recipients must break them down for discarding—and risk worker injury—or pay a third party to dispose of them. And those recipients, including city and state government facilities, educational institutions and hospitals, are now pushing back on shippers to request that bulk shipments be delivered on recyclable, corrugated pallets instead, says Adam Pener, president of Green OX Pallet Technology.
"If these end users can award a supplier a $1 million contract to provide milk in a specific type of packaging, they can also mandate the type of pallet it's shipped on," Pener says, "and these institutions are more frequently requesting corrugated pallets."
Green OX's industrial strength corrugated pallets, engineered to handle up to 1,700 pounds (and currently in testing at 2,000 pounds), are fully recyclable. The pallets can be manufactured in a variety of sizes to accommodate any load, and optionally coated for water resistance while retaining their ability to be recycled.
One of the biggest advantages, Pener adds, is that these pallets ship flat for assembly at their point of use. "We can ship 2,000 unassembled on a truck—five times more than a truckload of wood pallets, a shipment that is mostly air. We also provide them from any U.S. corrugated manufacturer, making them cost effective and cutting the number of truck shipments by up to 80% for the front-end distribution segment."
In addition to the pallets, for operations needing to assemble high volumes and for whom it's not feasible to build that many by hand, Green OX has teamed up with ProMach's Edson Packaging Machinery to develop a 700-square-foot machine that assembles as many as 250 Green OX pallets per hour.
"Currently, there are an estimated 10 billion pallet shipments per year in the United States. At an extra 40 pounds per pallet for wood versus corrugated, that's 400 billion pounds of pallet weight to ship the same products—and that weight contributes significantly to shipping costs and fuel expenses, as well as to wear and tear on vehicles and roads," Pener says. "For these reasons, we're starting to see corporations, as well as policy
makers, show an interest in corrugated pallets."
What's Related in Pallets
NPP-4840-3R-E3OD plastic electronics pallet
Plastic pallet safe for electronics.
Loscam introduces new strategic shareholders
CMG fully acquired Loscam in 2010 and has since seen Loscam successfully grow to become Asia-Pacific's largest pallet pooling company.
PalletPal Roll-On Level Loader with Turntable
Level loader with turntable can be fed with a hand pallet truck.
Invert an Entire Pallet Load in Seconds
The PalletPal® Rotator Inverter from Southworth Products Corp is the fast, safe, and easy way to invert a fully loaded pallet without the need for labor intensive, time-consuming manual restacking.
Level Loader With Turntable Can Be Fed With a Hand Pallet Truck
The PalletPal Roll-On Level Loader with Turntable features a platform that lowers to floor height, so pallets can be placed on or removed from them using a hand pallet truck.
More Pallets
Related Topics
Packaging Corner
Pallets
Sustainability
All topics
About the Author
Sara Pearson SpecterSara Pearson Specter has written articles and supplements for Modern Materials Handling and Material Handling Product News as an Editor at Large since 2001. Specter has worked in the fields of graphic design, advertising, marketing, and public relations for nearly 20 years, with a special emphasis on helping business-to-business industrial and manufacturing companies. She owns her own marketing communications firm,
Sara Specter, Marketing Mercenary LLC
. Clients include companies in a diverse range of fields, including materials handing equipment, systems and packaging, professional and financial services, regional economic development and higher education. Specter graduated from Centre College in Danville, Ky. with a bachelor's degree in French and history. She lives in Oregon's Willamette Valley where she and her husband are in the process of establishing a
vineyard and winery
.
Latest products
Super Air Wipe dries, cools & cleans small diameters.
Momentum™ warehouse execution system (WES) by Honeywell Intelligrated is a feature-rich software platform built to address the escalating…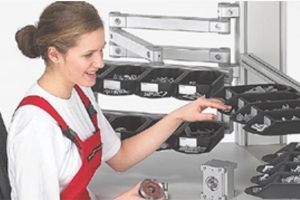 Customize workbench for optimized use.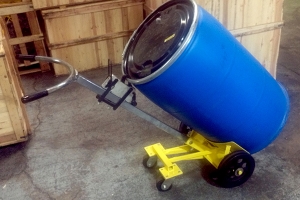 Handle rimmed drums with ergonomic hand truck.
Latest materials handling news