Continuous improvement in action
This month in Modern brings you inside the 1.5-million-square-foot Canadian Tire DC.

By
Michael Levans, Group Editorial Director
·
January 15, 2019
Canadian Tire is one of those companies we like to keep an eye on. In fact, Canada's largest retailer graced Modern's cover back in 2010 after it opened the country's largest DC—at 1.5 million square feet—just outside Montreal.
At the time, the impressive DC bubbled up on our radar due to the implementation of a high-speed conveyor, wedge merge and sliding shoe sortation system that kept enough product rolling through—up to 55 million cubic feet per year—to fill 22,000 trailers a year.
And while the automation inside the facility itself was noteworthy, the location also marked a move to a regionalized distribution model for general merchandise in preparation for more e-commerce fulfillment. That facility also allowed the retail giant to take control of its warehousing operations, something that it traditionally relied on its 3PL partners to manage, on its way to realizing inventory efficiencies and streamlined costs.
This month in Modern, we fast forward nearly nine years to another 1.5-million-square-foot Canadian Tire DC, but this one in Calendon, Ontario, just outside Toronto, that's devoted to shipping bulk SKUs to more than 500 stores across Canada.
This time around, Canadian Tire has taken equipment and process you'd usually see in an automated manufacturing facility and have adapted it to a retail distribution environment. The goal was to improve the handling and distribution of larger conveyable and bulk goods—as well as those pesky non-conveyables, like tires.
"In this current facility, they brought together high levels of automation that we don't typically see in a DC to tackle difficult to handle products, including the use of a fleet of 43 automatic guided vehicles and a tire gantry robotic system to eliminate non-value-added travel," says executive editor Bob Trebilcock, who takes us inside the Calendon facility.
And, the results have been terrific. After 18 months of operation, the DC is handling 350 trailers a day and 65 million cubic feet of hard-to-handle shipments per year running two 10-hour shifts, seven days a week. As Trebilcock reports, product flow has improved, the team is realizing higher fill rates, and they've seen the handling costs of these awkward items plummet.
Over the years, as orders have grown and fulfillment pressures have increased, the reason Canadian Tire keeps popping up in our pages is the relentless commitment to flexible and scalable DC design and a commitment to continuous improvement. As Karen Adie-
Henderson, associate vice president of the Bolton DC, tells Trebilcock, more than 400 ideas to improve processes have been contributed by employees, and so far 130 of those have been implemented.
"Canadian Tires' commitment to continuous improvement is inspiring," adds Trebilcock. "This is the fourth time Modern has profiled one of the company's DCs, and every time I'm impressed with their innovative and practical approach to distribution. I'm sure this won't be last time we step inside their doors."
More This Month in Modern
Related Topics
Distribution Center
This Month in Modern
All topics
About the Author
Michael Levans, Group Editorial DirectorMichael Levans is Group Editorial Director of Peerless Media's Supply Chain Group of publications and websites including Logistics Management, Supply Chain Management Review, Modern Materials Handling, and Material Handling Product News. He's a 23-year publishing veteran who started out at the Pittsburgh Press as a business reporter and has spent the last 17 years in the business-to-business press. He's been covering the logistics and supply chain markets for the past seven years. You can reach him at
[email protected]
Latest products
Design mezzanines with software.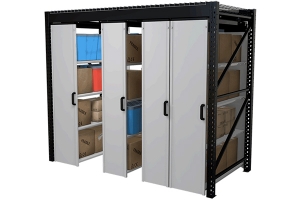 Integrate small parts storage with pallet racking.
Drop carton flow system into existing racks, shelves.
Store pipe, tubes, lumber on cantilever rack.
Latest materials handling news