Brewery adds density, flexibility and control with end-to-end solution
Gantry cranes handle changes in SKUs, packaging and seasonal peaks while providing powerful software tools.

By
Josh Bond, Senior Editor
·
December 7, 2018
Olvi Brewery, founded in 1878 in Iisalmi, central Finland, was challenged to address many obstacles familiar throughout the brewing industry. Diversification in products and packaging, drastic seasonal changes and exploding production volumes put ever-increasing pressure on the company's production, warehousing and distribution operations. To relieve these strains while improving customer service, the company installed a fully automated gantry picking system that offers extreme flexibility.
Customers want more variety, smaller batches and more frequent deliveries. Seasonal demand for beverage consumption can swing 25% between low and high months, which can cause bottlenecks in production and the distribution center on peak production days. The new automated order picking system (Cimcorp) adapts to variations in the amount and frequency of deliveries and provides flexibility. The solution provider's software manages the entirety of dispatch, from warehousing to material flow and order picking.
The software controls handling of full beverage trays, crates and pallets from the production lines to the loading bays. The automated high-bay warehouse can accommodate 13,800 pallets, which doubled the storage on site when installed. It meets the demands of overall growth in production capacity, as well as leveling out the seasonal swings of the brewing industry.
"We have promised our customers almost 100% delivery accuracy, and we are committed to ensuring that," says Ilkka Heikkilä, logistics foreman at the brewery. "The system handles all order picking, and we are happy that it hasn't caused any delivery delays."
Automated order picking is supplemented by voice picking for products that are not suitable for picking by the gantry robots. Six automatic stacker cranes handle about 90% of the material flow and ensure first-in, first-out compliance.
To meet statutory food security and control requirements, every individual beverage is traceable from the customer to the production batch. Real-time inventory is also supported, and inventory and warehouse control have been 100% accurate since installation.
Annual capacity has increased from 100 million liters to 178 million, with a realistic target to hit 200 million liters a year in 2020. All investments in automation have been made bearing in mind the need for the solution to adapt smoothly to future growth, with the capacity of warehousing and shipping to increase in stages
More Productivity Solution
Related Topics
Cimcorp
Overhead Handling
Productivity Solution
All topics
About the Author
Josh Bond, Senior EditorJosh Bond is Senior Editor for Modern, and was formerly Modern's lift truck columnist and associate editor. He has a degree in Journalism from Keene State College and has studied business management at Franklin Pierce University.
Latest products
Design mezzanines with software.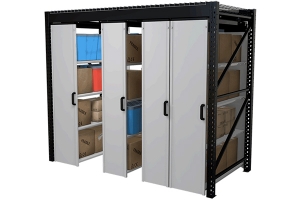 Integrate small parts storage with pallet racking.
Drop carton flow system into existing racks, shelves.
Store pipe, tubes, lumber on cantilever rack.
Latest materials handling news