American Dental Trading automates storage
New storage systems increase productivity.

By
MMH Staff
·
October 15, 2018
To automate the storage and order picking of dental products at its distribution center in Oisterwijk, the Netherlands, American Dental Trading (ADT), a wholesaler of dental supplies, enlisted the help of a system integrator.
The wholesaler invested in a combination of storage and order picking systems, including goods-to-person stations, a pick-to-light system and picking carts, each of which was controlled by the system integrator's warehouse management system (WMS).
The most noteworthy solution is the shuttle-based, goods-to-person system—used for the storage and retrieval of plastic totes that contain inventory. To optimize storage capacity, many of the totes are fitted with partitions, which subdivide them into two, four or eight compartments.
All order picking is conducted at the goods-to-person stations, which are connected to the shuttle system by conveyors. Each station has two picking workstations positioned at chest height for proper handling of the stock totes that emerge from the shuttle system.
The picked items are placed into one of the four totes positioned at hip height, each of which is linked to a specific customer order. Because of various support features such as monitors, LED displays and LED indicators, picking errors are virtually eliminated.
"The fact that the order pickers no longer have to walk is beneficial for our productivity," says Joe Sakkers, ICT manager at ADT.
In the meantime, the storage and order picking system for fast-movers is positioned in between the shuttle system and the two goods-to-person stations. It comprises a roller racking system with a different SKU in each lane. Each lane also has a pick-to-light display, which shows how many items must be picked from it.
"We've split this area into two zones so that two order pickers can work simultaneously," Sakkers adds.
For slow-movers and bulky items, ADT uses pick-to-cart: order picking carts equipped with pick-to-light displays. The carts enable the employees to pick up to 12 orders at a time as they follow their route past the pallet and shelf locations.
"Once the order pickers are done, they place the totes and cartons in a consolidation buffer: a roller racking system where we can temporarily hold the orders until they are complete," Sakkers says.
Since the new storage and order picking system went live, the whole operation has become much calmer and productivity has increased by 30%, according to Sakkers.
"We're not only handling more orders than before, but we've also eliminated stress and overtime," he adds.
View Automated Storage Products and Accessories
Line of vertical pan carousels
Carousel retrieves carriers at high speeds.

---
White horizontal carousel system
Save floor space with horizontal carousels.

---
Vidmar Vertical Lift Module
Reconfigure VLM easily to accommodate growth.

---
High-volume buffer shuttle system
Shuttle for bi-directional handling.

---
Flexi Shuttle
Shuttle accommodates flexible load positioning.

---
Rebuilt horizontal and vertical carousels
Save money and space with rebuilt carousels.

---
More Automated Storage
Related Topics
Automated Storage
Casebook
Pick to Light
Picking
All topics
Latest products
Super Air Wipe dries, cools & cleans small diameters.
Momentum™ warehouse execution system (WES) by Honeywell Intelligrated is a feature-rich software platform built to address the escalating…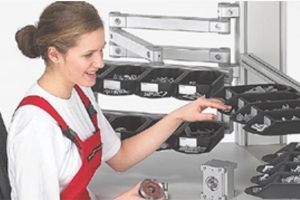 Customize workbench for optimized use.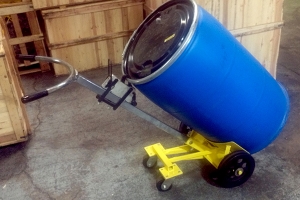 Handle rimmed drums with ergonomic hand truck.
Latest materials handling news