2018 Top 20 Automatic Data Capture Suppliers
The lines are blurring in the automatic data capture market where, thanks to advancements in smart phone technology, opportunities are opening up to a larger swath of companies that need advanced technology to handle their single-item fulfillment and other e-commerce-related demands.

By
Bridget McCrea, Editor
·
November 1, 2018
When he looks at the performance of automatic identification and data capture (AIDC) solutions providers over the last year, David Krebs, vice president of VDC Research's enterprise mobility and connected devices, sees two different stories developing.
One involves the development of the AIDC solutions themselves, and the other centers on the rapid growth of mobile in the warehousing and distribution environment.
On the equipment side (which VDC defines as handheld rugged mobile computers; vehicle-mounted computers; handheld and stationary bar code scanners; and thermal label printers), Zebra Technologies "really hit its stride in terms of product development and performance in 2017," says Krebs.
As proof, he points to the company's year-over-year 4.7% growth (from $2.13 billion in 2016 to $2.23 billion last year), which incorporates the revenues of both Motorola Solutions and Psion.
Krebs says there's also been "a lot of consolidation at the top," with Zebra and Honeywell working to establish their footholds in the market through mergers and acquisitions (M&A). "There's been some fairly aggressive M&A play going on," says Krebs.
In fact, he says the market's larger players have basically consolidated the entire spectrum of Auto-ID (both stationary and handheld data capture scanning) and the printing/output technology (labeling and the associated mobile technologies).
"Thanks to the consolidation trend," says Krebs, "both Zebra and Honeywell have positions in what we see as being some of the primary hardware categories that make up today's AIDC market."
Cutting the wires
According to VDC's research, the mobile side of the industry is also in growth mode because more companies are "cutting the wires" and moving over to more flexible distribution and warehousing environments.
Total sales of rugged devices (including forklift, handheld/PDAs and wearables) hit $2.85 billion last year, up from $2.76 billion in 2016.
By 2021, VDC expects that number to reach $3.19 billion, representing a 3% compound annual growth rate (CAGR) between 2016 and 2021. Bar code hardware sales are also on the rise, having grown from $3.38 billion last year to $3.51 billion in 2017. By 2021, VDC expects this segment of the market to reach $4.30 billion, representing a 5% CAGR between 2016 and 2021.
Combined, the estimated global shipments of AIDC hardware is expected to reach $7.5 billion by 2021, for a 4.1% CAGR over the same five-year period.
"There's an ongoing transition to mobile underway. In the handheld space, for example, we're seeing a 'modernization' trend and a migration away from Windows and over to Android," Krebs points out.
"People made some early bets on Microsoft leaving the industry and moved over to Android," he continues. That move would prove to be expensive and time-consuming for companies, Krebs notes, in terms of the software investments and competencies they would need to develop.
Honeywell, which saw its 2017 revenues (including revenues of LXE, Intermec and Datamax-O'Neil) drop by 30.6% to $709 million (from $1.02 billion), took a different tack. "They said, 'Well, we can't read the tea leaves, so we're not attaching our horse to any one wagon; we're going to split our risk,'" Krebs explains.
"If the market wants one piece of hardware for Microsoft and a different one for Android, then Honeywell will give them both."
The problem, says Krebs, is that the market didn't necessarily know what it wanted and still had to be convinced of Android's viability for specific applications. This required leadership and direction on the part of AIDC providers like Honeywell, which continues to work through these and other mobile-related issues.
"All in all," says Krebs, "we saw a fairly dramatic development in terms of year-over-year progress for two of the industry's two biggest players."
A partner-driven ecosystem
Joining Zebra and Honeywell at the top of this year's AIDC list are Datalogic, which posted a 0.4% drop in revenues over 2016 (from $556 million to $554 million); SATO, which saw its revenues increase by 9.7% (from $200 million to $219 million); and Toshiba TEC, whose revenues grew by 9.5% (from $158 million to $173 million).
Rounding out the list of top 10 are Denso Wave, Cognex, SICK AG, TSC Printers and Casio.
Calling the AIDC market a "partner-driven ecosystem," Krebs says the interdependency among its key players means each relies on the next to succeed. Add technological innovation and changing customer demands to the mix and the environment becomes pressurized very quickly.
"There's a tremendous amount of tension right now in the partner community core," says Krebs, who has seen some of the sector's larger providers working to ease those tensions and make it easier to do business with them.
Running his finger further down the list of top AIDC providers for 2017, Krebs points to Panasonic as one of the up-and-coming players in the mobile space. With AIDC sales of $61 million for 2017 (up from $51 million the year before), the company saw its mobile sales increase by 21.1% during that 12-month period.
"Panasonic is obviously a giant when it comes to its traditional Toughbook business (i.e., notebooks and tablets)," says Krebs. "But in the handheld space, they're starting to get it."
That momentum continued into the first half of 2018, and Krebs expects more traction from Panasonic on the mobile front in the coming months. "We anticipate Panasonic's share of the AIDC market to jump quite a bit, both in some of its legacy markets, like Japan, and in North America," Krebs predicts, "where large corporations want and desperately need to have more options than just Zebra and Honeywell."
Faster, more accurate data capture
Examining broader AIDC market trends, Krebs says the shift toward using camera-based technologies is in full swing. "We're seeing migration at the point of sale POS) to using image-based/camera-based technologies," he explains, "not only to be able to read QR codes off cell phone screens, but also for traceability initiatives."
In the pharmaceutical industry, for example, camera-based technologies are being used for serialization and to ensure high levels of visibility for products as they move across the supply chain.
"Soon, we'll see that usage cross over into other product categories," Krebs predicts. "Anytime a company is dealing with a perishable item (i.e., for sell-by dates) or one that falls under a high degree of regulatory influence, you're going to see more camera-based AIDC being used."
This technology provides the highest value when machine vision and data capture converge. In the future, for example, Amazon Go's concept stores could potentially use camera-based technology to identify products without the need for bar codes.
"This isn't really viable yet, but in the future—when sensors and cameras cost even less, and are miniaturized even further—the technology could enable a lot of different types of applications and use cases," Krebs says, who points to collaborative, vision-guided robotics as another advanced technology that holds solid potential in the mobile warehouse of the future.
"We're seeing continued pressure in retail distribution for faster fulfillment speeds and greater needs for accuracy, namely due to the item-level fulfillment being driven by e-commerce," says Krebs. "These forces are all coming together to drive the need for not only automation, but also for greater, more accurate and faster data capture to support those developments."
Opening up AIDC to a larger audience
As the unwired fulfillment environment continues to come into focus, and as warehouse and DC managers are being asked to do more with less while meeting customers' ever-evolving demands, the global AIDC market is expected to grow exponentially.
Concurrently, the definition of AIDC and mobility will continue to morph right along with the market, making it more difficult to discern among hardware and software that was once categorized into distinct buckets.
Today's rugged mobile computers, for instance, are being built with advanced, integrated data capture capabilities.
"Both Zebra and Honeywell are designing purpose-built mobile computers for use in a variety of environments," Krebs says, "when their real claim to fame is designing equipment to withstand harsh environments (e.g., those focused on long battery life, wireless performance and operating in large campus-type environments)."
Foundationally, the AIDC market has grown beyond these needs—a reality that pushed some of its larger players to acquire multiple smaller companies over the last one or two years. The explosion in smart phone usage, for example, has pushed device manufacturers to make products that can also be used in industrial settings.
And while these devices may not suffice in the cold chain environment, they do offer good wireless functionality, battery life and memory options. They also have sophisticated cameras, Krebs adds, and software that transforms the devices into capable scanners.
"You won't see someone using a smart phone to scan hundreds of items in a shift, but they're good for the occasional scan," Krebs notes, "and can serve as an effective alternative to something that Zebra, Honeywell or Datalogic might be selling." This, in turn, opens up the mobile market to smaller organizations that can't afford to invest in purpose-built devices.
"The lines are blurring," says Krebs, "and the fact that you can get a basic smart phone for a couple of hundred bucks has basically opened up the market to a larger audience."
Top 20 Industrial Lift Truck Suppliers in 2017
Company
Year Over Year Change
Headquarters
2231
4.7%
Schaumburg, IL
709
-30.6%
Morristown, NJ
554
-0.4%
Eugene, OR
219
9.7%
Charlotte, NC
173
9.5%
Irvine, CA
122
-0.3%
Southfield, MI
114
8.7%
Natick, MA
90
4.2%
Minneapolis, MN
86
11.1%
Pomona, CA
85
8.9%
Dover, NJ
85
23.9%
Fremont, CA
82
16.9%
Shandong, China
76
-0.3%
Palisades Park, NJ
61
21.1%
Newark, NJ
52
12.3%
Los Angeles, CA
50
-11.5%
Duluth, GA
46
-30%
Glendale, CA
44
7.2%
Tyngsboro, MA
39
-0.5%
Renton, WA
36
3.2%
Iselin, NJ
TOTAL:
4953
Related Topics
Automatic Data Capture
Automation
Top 20
All topics
About the Author
Bridget McCrea, EditorBridget McCrea is a Contributing Editor for Logistics Management based in Clearwater, Fla. She has covered the transportation and supply chain space since 1996 and has covered all aspects of the industry for Logistics Management and Supply Chain Management Review. She can be reached at
[email protected]
, or on Twitter
@BridgetMcCrea
Latest products
Design mezzanines with software.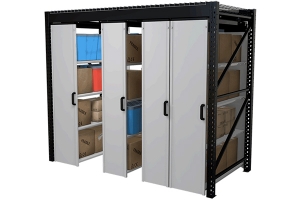 Integrate small parts storage with pallet racking.
Drop carton flow system into existing racks, shelves.
Store pipe, tubes, lumber on cantilever rack.
Latest materials handling news