Kinedyne announces the passing of Paul Wolford
Kinedyne's Wolford was widely known and highly regarded by OEMs, fleets and many others in the commercial vehicle industry.

By
MMH Staff
·
November 28, 2018
Kinedyne LLC, a leading designer, manufacturer and distributor of cargo control technologies, including cargo securement, capacity and access solutions for the transportation industry, today announced with the deepest regret the death of Paul W. Wolford, its vice president of sales and marketing.
"It is with the greatest sadness we share that Paul Wolford, our esteemed colleague and trusted friend, passed away Thursday, November 15, 2018," Dan Schlotterbeck, president of Kinedyne LLC, said. "Paul's courage, strength and dignity through his long battle with cancer are a testament to his dedication and devotion to all who knew him. He led by example, and his many contributions, as a person and as a leader, touched each of us."
Wolford's career in the commercial vehicle industry spanned nearly 40 years. He joined Kinedyne in 1981 and was named the company's vice president of sales and marketing in 1997. Wolford's efforts helped propel the company's rapid growth and to establish its reputation as "The Cargo Control People!"
Wolford was an active member of the American Lung Association and was recognized as a LUNG FORCE Hero for his fundraising and advocacy for cancer research in its fight against the disease. Memorial donations can be made to:
American Lung Association in Kansas & Greater Kansas City
8400 W. 110th Street, Suite 130
Overland Park, KS 66210
Mr. Wolford's obituary is available here: https://www.penwellgabelolathe.com/Obituary/165500/Paul-Wolford/Olathe-Kansas
Related Topics
Kinedyne
All topics
Latest products
Super Air Wipe dries, cools & cleans small diameters.
Momentum™ warehouse execution system (WES) by Honeywell Intelligrated is a feature-rich software platform built to address the escalating…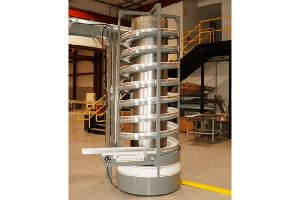 Accumulate various size glass jars with rotary drum spiral conveyor.
Fall protection systems, products backed by support for installers.
Latest materials handling news