Latest in Materials Handling
December 14, 2018
Probably not. But as you're about to read, plenty of opportunities are available to spend too much too often if you ignore proper maintenance.
December 14, 2018
Commerce reported that November retail sales, at $513.5 million, were up 0.2% over October's revised $512.4 million and up 4.2% annually,…
December 14, 2018
Accidents happen. But the potential impact can be reduced with the use of guarding from rack protectors to netting and safety gates.…
December 13, 2018
The MRO Editorial staff sat down with Jordan Vande Woude of Dematic to discuss the technician field.
December 13, 2018
Nearly 3,000 readers voted in 12 categories for the best innovations in materials handling equipment to help you decide the best products…
December 12, 2018
Logility and COU Consulting are currently helping several Latin American companies to transform their supply chain performance with Logility…
December 12, 2018
A project to reduce storage and product movement costs improves supply chain performance for Goodwill Industries while building skills…
December 12, 2018
Here are seven steps that all warehouse and DC managers should be taking to preserve the life of their facility floors.
December 11, 2018
EDC brought in a WMS, lights, powered conveyor and sortation to write a new chapter in the book distributor's distribution story.
December 11, 2018
Optimism for the manufacturing and non-manufacturing sectors, in 2019, is firmly intact, albeit not at the same level as 2018, according…
Materials Handling Products
Super Air Wipe dries, cools & cleans small diameters.
Learn more.
Momentum™ warehouse execution system (WES) by Honeywell Intelligrated is a feature-rich software platform built to address the escalating…
Learn more.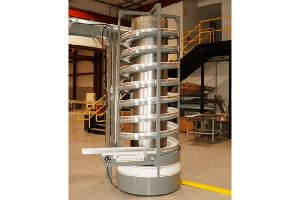 Conveyors & Sortation
Accumulate various size glass jars with rotary drum spiral conveyor.
Learn more.
Fall protection systems, products backed by support for installers.
Learn more.
Prevent pedestrian/vehicle collisions with forklift safety lights and spotlights.
Learn more.